Tencent offers a mobile and free version of PUBG, playable on PC. This is an identical version to the mobile version except that the latter is encapsulated in a fully dedicated PC emulator. You can therefore play with your keyboard and mouse to play the video game phenomenon of recent months. This will increase your accuracy and efficiency. Not to mention that it allows you to play a free paid game without hacking!
Tencent's official emulator for PUBG is currently translated into Chinese and English, but don't worry, the game, is well offered in several languages, including French, Spanish and German ( to be confirmed). Note that you can synchronize your backups using a Twitter or Facebook account and that the game only allows you to play against players on an emulator.
The godfather of the Battle Royale mode
PubG and somehow the first game that pulled the "Battle Royale" mode out of the dark. This is a game mode inspired by the "King of the Hill" or "Last man Standing" mode, i. e. a player must finish victorious against enemies who have only one life and therefore only one chance to win.
PubG is spread over a huge map, on which 100 players, weapons, vehicles and various equipment are scattered. More realistic than the Fortnite it inspired, this game is also very violent and difficult to control.
Logitheque offers two versions of the Tencent emulator for PUBG: a Vietnamese version and an international version.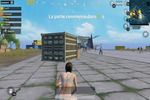 Version

1.0.5727.123

Licence

Freeware

Editor

Tencent
Number of
downloads

64061 downloads

Language

Type

Games

Date Created

07/09/2018

Rate this software :