FotoJet Designer is a stunning graphic design application, powerful yet simple. FotoJet Designer makes graphic design easier than ever. It gives users the freedom to make a unique design in a few clicks. It has a variety of stunning posters, banners, flyers, Youtube channel arts, greeting cards, business cards as ready-made templates, which you can directly use or modify for your own use. It gives you the ability to create unique graphics with its 900+ templates, thousands of resources, and powerful editing tools.
Its stylish interface is intuitive and makes designs straightforward, which is welcome among the green hand and the experienced.
It gives thematic & eye-catching collections as templates, for example, thank you cards, Christmas cards, business cards, Youtube banners, facebook banners, birthday invations, etc. Simply click template object to adjust or replace it. Also, you can make a flip, manage layers, change opacity, replace text, change fonts, and etc.
Clipart provides shapes, icons, emoji, and other objects in groups, so that you can easily customize any art. You are allowed to choose your color scheme and artsy patterns in FotoJet Designer.
Resourceful FotoJet Designer helps you create professional & inspiring arts for your cards, flyers, invitations, posters, banners, and what not.
Fast, Powerful and Easy to Use
• Thousands of templates and resources to choose from.
Lots of powerful editing tools that work fast and efficiently.
• Anyone can create unique and professional designs with only a few clicks and with minimum effort.
Abundant Templates and Resources
900+ well-designed templates in various categories, including Facebook Cover, YouTube Channel Art, Instagram Post, Poster, Flyer, Logo, Banner, Card and Invitation.
80+ text fonts and 30+ preset text styles that can be applied with one click.
• 800+ preset clipart images to choose from or search through 93,000+images from Open clipart.
80+ preset lines and shapes.
• Set background with solid/gradient color fill, or 80+ preset patterns.
Add photos from computer, Facebook or online photo stock.
Personalize Graphic Designs Freely
Your photos can be edited freely: crop and move to show the exact part you want; or apply popular photo effects to make them outstanding.
Handy text editing tools: set text font, size, style, color and effect at will.
Move, resize and rotate any element as per requirements.
• Select multiple elements and edit as a whole quickly.
• Manage layers for different elements.
• Undo/Redo.
• Auto Snap - Align any element both to an individual element and a whole page while moving.
• Zoom in to get a close-up view of your design or zoom out to view it at a reduced size.
Save, Share or Print
• Save your designs as JPG or PNG images.
• Share your designs to Facebook, Twitter, Pinterest, or Tumblr.
• Directly print your designs out.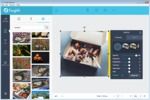 Version

1.1.0

Licence

Shareware

Editeur

Pearlmountainsoft
Nombre de
téléchargements

269 téléchargements

Langue

Type

Graphisme

Date de création

01/08/2017

Notez ce logiciel :