Antivirus comparison 2019: and the best antiviruses are....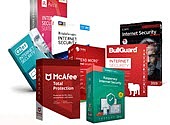 Here is the new comparison of commercial antivirus software, which focuses on security software released in 2018 and which is mostly stamped 2019. The tests were carried out on 8 products distributed in the hexagon and known to (almost) all. If this selection reflects the antivirus market in France, we have not included free software, which is entitled to its own comparison, nor products that have not evolved since our last tests.
Discover the tests of the best antivirus 2019
Eset

Internet Security v12 (Edition 2019)

Kaspersky

Internet Security 2019

Bitdefender

Internet Security 2019

G Data Data

Internet Security 2019

Bullguard

Internet Security 2019

Norton

Security Deluxe 2019


Avira

Internet Security Suite 2019

Trend

Micro Internet Security v15

McAfee

Total Protection 2019
The best antivirus of 2019 is....
YOU! Gone are the days when antivirus software was the pretext used by grandparents to ask their grandchildren to come and see them. Now, everyone has gotten down to it and installing software of this type is no longer an insurmountable challenge. On the contrary, since even Windows now comes with a security solution that holds up pretty well....
Today, viruses and most malware have given way to other types of threats, which are more a matter of social engineering. Ransom software, malicious spam, browser blocking... Web scammers have abandoned hacking, code and creativity to feed a model purely focused on profit. Before, hackers just wanted to create chaos, now they want to be rich!
That's where YOU come in. Now you know how to recognize malicious spam. Now you know how to create a bootable USB key to disinfect a poxed machine. Now you know which software to download to clean up a compromised hard drive. You have made a lot of progress and, at the limit, you no longer need to read this comparison...
You have also learned how to make your own backups, store your valuable documents in the Cloud and to no longer trust this person who puts you in his will for no reason if you send him $500. In short, you know how to manage and better judge a situation. However, you still need us, at least we hope so, to know if this or that software is best suited for your machine...
The tests
Each software has been tested according to an internal protocol that includes the submission of several thousand malware from various sources, of various natures and ages, on a computer with 2.4Ghz and 4Gb RAM under Windows 10. The browser used to test the web components is Mozilla Firefox and sometimes Google Chrome, in the latest version each time. On the test computer, Malwarebytes Anti-Malware, the Microsoft Office office suite and Skype are also installed.

These tests are not performance tests and do not replace those performed by AV-Test or Av-Comparatives, which distribute certifications and reports on the pure effectiveness of about twenty references each year. We invite you to consult the archives of these sites to obtain purely technical information on the capabilities of the software and its functionalities.
What is an antivirus?
First of all, let's start by answering an important question: what is an antivirus?
An antivirus is a software that will help the user to protect himself from threats on the Internet through different actions:
Real-time analysis and detection of viruses, spyware, Trojans...

Neutralization of detected threats and quarantine

Monitoring Internet-related activities through a firewall

Regular updating of the database to ensure protection against the latest threats discovered
In addition to ensuring user security, some antivirus software can also offer additional features such as:
An analysis of your home network

The automatic update of your software

A VPN to be anonymous on the web

Protection for your online purchases
These tools can be integrated directly into the antivirus software or they can be offered as additional programs to install (for example, a browser extension to protect your banking transactions).

Currently, antivirus vendors are trying to differentiate themselves from each other by multiplying the additional tools available in the security suite.
All in the fight against ransomware
This year, there are few new features in antivirus solutions: there are some aesthetic improvements and also adjustments in antivirus protection. Once again, the change is not in the form of the software published this year, but in substance. It must be said that the 2018 review of IT security worldwide is far from reassuring. Millions of ransomware have infected home and business computers, with very serious consequences. This trend is taken very seriously by security solution providers who have put in place all the means to ensure the security of their customers in the face of these new threats.

Also, personal files and other documents are increasingly targeted by malware. It is therefore not surprising to find some options that prevent unwanted file changes to keep your documents safe. Moreover, some organizations, such as OPSWAT, allow you to see the distribution of anti-malware (and some antivirus) software on the market.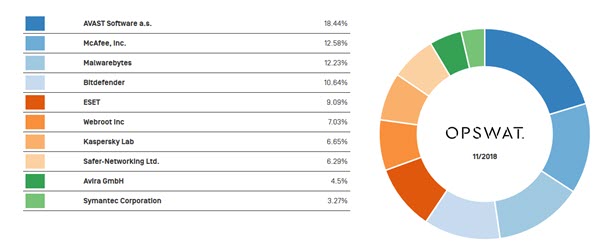 Share of anti-malware software vendors according to OPSWAT users' feedback Source
Increasingly important issues
Be aware that system contamination due to viruses is only a small part of the problems observed, so of course the term virus is literally defined, i.e. a code that duplicates itself. The number of malware infections is on the rise1, not only on PCs, but also on Macs and especially mobiles. The types of infections and offences have also moved away from simple nuisance to hostage-taking: the famous ransomware or ransomware (such as malware Gendarmerie) or even password thieves or keyloggers have wreaked havoc in recent months. On mobile phones, especially Android, the number of malicious applications (which often steal users' personal information or hack into SMS messages) has doubled in the last year!
Obviously, it is more and more important to protect yourself, at a time when our private lives are more and more exposed and when temptations are growing. Although this comparison is not intended to convince you of the effectiveness of a software program, we prefer that you try several beforehand - we strongly encourage you to install antivirus software and a firewall, so that you have at least basic protection, which your system does not necessarily provide (especially under Windows). Nevertheless, under Windows 10, users already benefit from Windows Defender, the Redmond firm's in-house antivirus software, as well as the system's integrated firewall, which has improved considerably in recent years.
A brief explanation of these tests: we are not intended to replace independent test organizations and safety professionals who perform extensive but performance-oriented tests. Our approach is voluntarily that of a user in real conditions, even if we use malware and tools that allow us to observe the behavior of the tested software. However, do not try to test the limits of your own antivirus software at home, as this could be dangerous, or to install several programs at the same time, as this could make your system unstable. On the other hand, we recommend the installation of additional tools, such as specific protection and anti-malware programs. Our antivirus comparison is one of the last on the market to carry out scrupulous internal tests and offer a complete file. Beware of imitations!
The main market players
We have decided to treat in this comparison only commercial software, in various forms but more often than not in the field of security suites. We also used the 20151 market figures to identify the main players in the global market to determine the products to be tested. We also looked at the French market, which stands out from the rest of the world for its uniqueness: The top three (paid software) are Kasperksy, ESET and Bitdefender, where the other countries favour G DATA or McAfee. Of course, we will try to reach as many antivirus software as possible but keeping in mind that only a few are really active on the French market. This year we have also chosen to present the paid versions of Avira and Avast in order to gauge their performance in the field of paid antivirus. For the first time, we wanted to discover the products of the BullGuard publisher and once again tested an antivirus from Trend Micro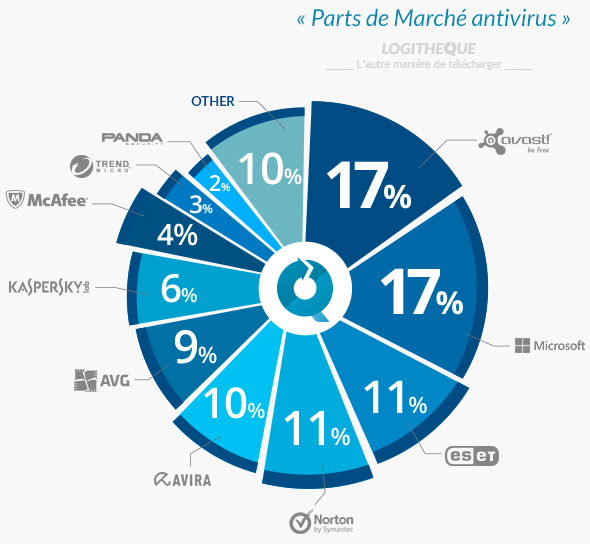 Market share of antivirus products worldwide (source: guideantivirus)
As the tests are published, we will enrich our comparative table, where all the references and links to the different pages that interest us will be grouped. A comparison of free antivirus software will also be on the agenda in parallel with this one, to show you the vitality of publishers to provide more and more solutions and to make known the full scope of a market that extends to 80% across the entire software landscape. Our comparison also concerns smartphones under Android, in the dossier we are dedicating to this subject.
Attention! Following the waves of cyber attacks (Wannacry, Wannacryptor...), you must make sure that your system is up to date and that you have consulted all the basic security instructions!
Articles on the Same Subject