Death of Bruno Vanryb, co-founder of Avanquest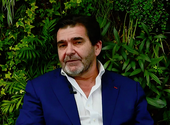 Bruno Vanryb died on Saturday, at the age of 61, following a motorcycle accident in Morocco. A pioneer in French high-tech, this passionate entrepreneur is known for co-founding Avanquest Software, the consumer software publisher, and for his commitment to the new generations of entrepreneurs.
What we could learn from Bruno Vanryb, according to those who knew him, is his entrepreneurial spirit. Before being a leader, he was an entrepreneur, a driving force ready to make things happen, and thus, to be one step ahead.
A pioneer in BtoC software publishing
Bruno Vanryb is from Suresnes. After having been a sound engineer and then a journalist, his professional career took on a completely different meaning when he joined forces with his friend Roger Politis for a 30-year collaboration. The history of their association is that of a success story: in 1984, they created the BVRP company based on their initials, with only their unemployment benefits as an investment.
From home, they produce small "in-house" software, and very quickly understand the importance of relying on the international market. After having renamed it Avanquest Software in 2005, their company became the 7th largest consumer software publisher in the world in 2010.
Purchased by Claranova, Avanquest Software offers a wide choice of solutions, such as sharing, security, photo editing, website design and accounting tools.
A smuggler and an engine
Bruno Vanryb leaves Avanquest in 2015 for new projects. In particular, he created BeBrave, a consulting firm for start-ups, and published a book of advice and anecdotes in 2017: The Ten Commandments of the Contractor.
He is very involved in the high-tech sector, not only investing and innovating in the fields he knows, but also trying to pass on his energy and know-how to his employees and young entrepreneurs who want to get started.
He chairs the Synter Digital Software Publishers College and the CroissancePlus network, the association behind the creation of BSPCE, these warrants from business creators.
His predecessor, Denis Payre, also pointed out for LesEchos.fr that Bruno Vanryb had "fought with great energy to ensure that the BSPCEs were valid for companies under 15 years old. ", and to add "He was someone who had a great capacity for conviction, enthusiasm and charisma. He was warm, straight, and endearing. »
This invested entrepreneur was also passionate about rock and a great collector of motorcycles. The people who knew him keep the memory of someone curious, invested, and with a taste for transmission.
Illustration from a filmed interview with the Academy of Accounting and Financial Sciences and Techniques
Articles on the Same Subject