Farming Simulator 19: Red Dead Redemption for farmers is available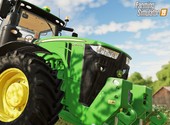 After a magnificent trailer published in February, the simulation game developed by GIANTS Software is finally available on PC, Xbox One and PS4. Farming Simulator is celebrating its tenth anniversary this year and to celebrate this event, it is filling up with new products.
A brand new graphics engine
For its 10th anniversary, Farming Simulator is equipped with a new graphics engine that offers even more realism. The immersion is total with even more accomplished visuals and special effects.
Three new game modes
New features include New Farmer, Farm Manager and Start From Scratch modes. The first one offers you a basic experience, you start with a small farm already installed with equipment at your disposal.
The approach of the Farm Manager mode is different, since it consists in giving you a sum of money without a farm, without equipment.
Finally, the From Scratch mode, considered more difficult, is designed for players who want to start from scratch, without a farm, but with a limited budget and the ability to adjust many parameters.

Amazing cards
Thanks to the new graphics engine, you can admire the magnificent landscapes offered by Farming Simulator 19 maps. This year, you will discover the new American map of Ravenport with its beaches, railway, mountains and impressive valleys.
In Europe too, there is something new with railways, but also mountainous reliefs and a castle on the Felsbrunn map.
A huge catalogue of vehicles
Thanks to the various partnerships between GIANTS Software and agricultural vehicle brands, this new edition of Farming Simulator integrates no less than 300 vehicles and equipment. You have at your disposal all the tools for breeding, cultivation, forest management and raw material transport.

Farming Simulator 19 costs you less than 30 euros in its Desktop version and is available on PC and Mac via Steam.
Articles on the Same Subject