Firefox will soon help you save money with its price tracker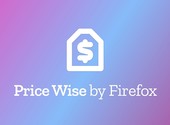 Mozilla is trying to recover the market share lost by Firefox to Chrome, by integrating new features into its browser. These new services generally focus on safety and improving the daily lives of users. The latest one is a price tracker presented as an extension.
On Tuesday, Mozilla launched the experimental phase for this feature through its Test Pilot program. Browser users can therefore test this new extension by registering for free.
Price Wise is currently only compatible with 5 American retailers: Amazon, Best Buy, Home Depot, eBay and Walmart. The French version of Amazon is unfortunately not yet supported, and the extension is only available in English. However, you can already test it via the Test Pilot program, to get your own idea.
When the user goes to a product page, he can add that product in the Price Wise extension. The tool will then automatically monitor the price evolution and notify the user in case of a change, either downward or upward. The objective is to enable Internet users to make their purchases online at the best price.

If Chrome, Firefox's main competitor, does not offer this feature natively, similar extensions such as Keepa or Wanteeed are already available; Mozilla will have a lot to do to compete with them.
Source: Mozilla Blog
Articles on the Same Subject