Google increases the prices of G Suite Basic and G Suite Business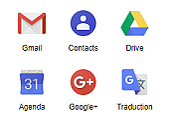 From April 2nd, G Suite Basic and G Suite Business editions will see their prices increase. This increase, Google explains, is due to the fact that these two formulas have been enriched with new features.
The basic suite should go from €4 per user per month to €5.20 per user per month. The Business version of G Suite will be offered at €10.40 per month per user, compared to €8 today. That is, the G Suite Enterprise offer does not have a price increase, set at €23 per user per month.
It must be said that since the launch of the G Suite, Google had not yet increased prices, even though the solution has been enhanced with several new features that have been gradually integrated.
When an individual thinks about the G Suite, the first basic features come to mind: Google Docs, Google Sheets, Google Calendar, or Google Drive. While these cloud solutions explain the success of the solution, it also includes Hangouts Meet, a video conferencing tool, secure team messaging, Hangouts Chat, and a cloud search solution, Google Cloud Search, available with Business and Enterprise editions.
Articles on the Same Subject