Here are the Battle Royales that will soon be released on mobiles (and how to be the first to play them)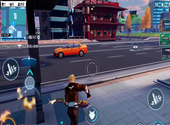 Battle Royale fever is not about to come down. As proof, we publish at least one such title every week, whether on PC, Mac or mobile. And sometimes even Linux, yes, it is. But here it is, publishers struggle to release an original and innovative title and sometimes content themselves with cloning Pubg or Fortnite. Fortunately, some developers are thinking of injecting a little renewal with their titles that are announced and will be released very soon, and for which we offer you a quick presentation. Most of these tracks are pre-registered or soft-launch, so you can even enjoy them before everyone else!
Cyber Hunter
Planned for Android and iPhone, Cyber Hunter is a futuristic Royal Battle that follows in the footsteps of a more serious Fortnite. The character you control will no longer be equipped with a pickaxe and a construction plan, but will be able to overcome the obstacles in front of him with the agility of a cat and the speed of a cat, but another, faster. Quite cartoon and close to what we already see in the big publishers of the genre, Cyber Hunter still looks promising and should please comic book lovers.
Super Mecha Champions
Arrived by surprise on the Royal Battle market, Netease's SMC (Android, iOs) is the Chinese giant's colourful response to Titanfall and by descent to Apex Legends. Available in Beta test for a very limited time, the game should be released soon worldwide. Some say it's a simple Cyber Hunter clone, others say it's going to smash everything in its path... It's up to you!
Apex Legends
No, you are not dreaming, the Royal Battle of EA is announced on mobiles (An, iOs). For the moment nothing has leaked from the publisher's side (CrossPlay, lite version, similar title...) but there is a good chance that the game will be released in the second half of this year. We believe in it, especially since this title could well cut corners with its rivals.
Disorder
Disorder ( Android) is, let's say, for the moment a mystery. Netease announced the release of this game later this year with some pictures and information about the main characters to play. According to our initial information, the publisher would change his muse and move away from the colourful mountains of Fortnite to the technological ruins of Apex Legends. We're asking to see.
Island Pioneer
Initially, Island Pioneer was an MOBA (but if, remember, League of Legends, DOTA...). But Netease (again) changed gears along the way and used this name for a light Battle Royale, which features buccaneers attacking an island where a coveted treasure is buried. Finally, that is what we have understood, because for the moment nothing has been made official in English on the publisher's side.
Call of Duty: Legends of War
Well, this multiplayer shoot is not a pure and hard Battle Royale but it has a dedicated mode and should delight fans of the game and genre. Otherwise, we no longer present this title which is already available if you follow our guide. For Android and iOs.
Author :

Frederic Pailliot
Articles on the Same Subject