How do I know if a Twitter account has deleted tweets?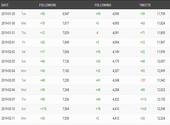 In the middle of a LOL League storm, we observe that journalists and communicators, affiliated in some way with this very exclusive "Cool Kids" club, are having fun erasing tweets by the handful and cleaning up its history. A preventive measure that would eventually allow them to pass between the drops, but that does not protect them from the famous "Streisand Effect"*, which gives a spotlight to people in search of discretion, too ostensible.
Shouldn't you have deleted it?
The practice of cleaning tweets is beneficial. Marie Kondo would agree, if a message does not provide you with that "spark of joy" specific to her method, it is better to get rid of it. Problem, when you delete thousands of messages on the same day, when you are a journalist and your reputation positions you more in the progressive camp, it can be seen.
One account in particular highlights those people who delete messages, for whatever reason, and since recently has been displaying statistics of messages deleted by people directly or indirectly related to the "Ligue du Lol", but not only.
This account is the one of the @FallaitPasSuppr twittos, which shows without distinction the deleted tweets of people in sight and sometimes details with force screenshots "the objects of the crime".
Tonight I am moved, I absolutely must introduce you to this person?????? #teaser pic.twitter.com/2mkiJFKbDb

- Shouldn't Delete?????? (@FallaitPasSuppr) February 13, 2019
Hello Marine Turchi @marineturchi, you who are leaving ESJ Lille, you may know more than we do?

What happens on February 11, 2019? 106 tweets deleted? pic.twitter.com/m91fvcHEnu

- Shouldn't Delete?????? (@FallaitPasSuppr) February 13, 2019
The case Julien Licourt @julienlicourt, journalist in the abos of most of the members of the #ligueduLOL #laLiguedulol

Gros passage au karcher de son Twitter le... February 11 ⤵️ pic.twitter.com/ElCiTBAGjs

- Shouldn't Delete?????? (@FallaitPasSuppr) February 13, 2019
To do the same, at home, if you want to know which public character has decided to switch to the high-pressure cleaner for his 2010 timeline, you can use Socialblade.
This analytics tool for people navigating in the environment of Youtube or Twitch influencers includes a tracking module for Twitter. Thus, you get a precise daily report of the actions carried out on an account, from the number of posts to the number of followers. In addition, the tool gives you a complete overview of the account in question, its positioning in a global ranking, its performance score and more.
Although intended for professionals, it can be used in conjunction with social mapping tools to establish lists of influencers or referents in a specific field.
In the problem that drives us, here it will be a question of whether a particular account has deleted mass messages. This applies now because the news is burning on this subject, but in the future, it is quite possible that it will happen again. So we'll have to be ready!
*The American singer and actress wanted to hide the photos of her luxurious property from the public, which had the opposite effect when the pictures were released when the procedure was published.
Author :

Frederic Pailliot
Articles on the Same Subject