Game of Thrones: Some tips to avoid spoilers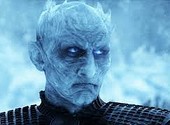 Between co-workers at work, friends and social networks, not being spoilt on your favorite TV show or THE movie of the year would almost be part of the fighter's journey. Unfortunately, not everyone has the opportunity to watch an episode of the current series 24 hours after its broadcast in the United States and it is not uncommon for someone close to you to violate the first commandment of Pop Culture: "Your entourage you will not spoil! ». So of course, there are radical solutions such as cutting yourself off from the world and giving up all social life, but you risk ending up with a bad end. The other solution would be to change friends and jobs, but again this is an excessive hair. In the absence of solutions against spoilers in real life, you can rely on our methods to counter them on the web.
Avoid spoilers on social networks
Twitter and Facebook are the main vectors used by spoilers. The memes, comments, and tweets themselves have become real weapons of massive "spoiling".
On Twitter where information flows at high speed, simply scrolling your timeline is a risk. However, there are several effective methods available to you to address this. If you use Twitter on smartphone, it is best to download a client like Echofon.
Echofon is an application that allows you to manage several Twitter accounts from the same interface, but it includes a lot of interesting features. Among these features is the ability to silence some of your subscribers or hashtags. So, if you have identified a user who is trigger-happy, with the "mute" function you are no longer bothered by his publications. The same applies to hashtags.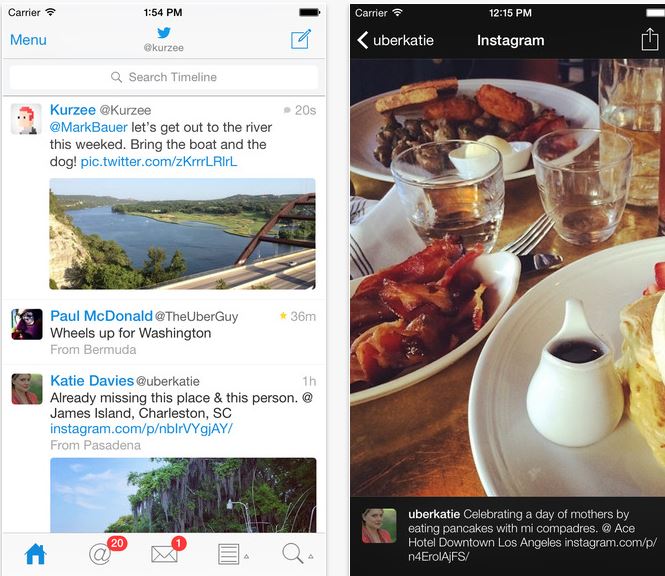 Be aware that these features are also available on PC, if you use a client like Tweetdeck that has the same tools as Echofon. All you have to do is go to the "settings" parameters and enter the series you are interested in in in the "Mute" tab.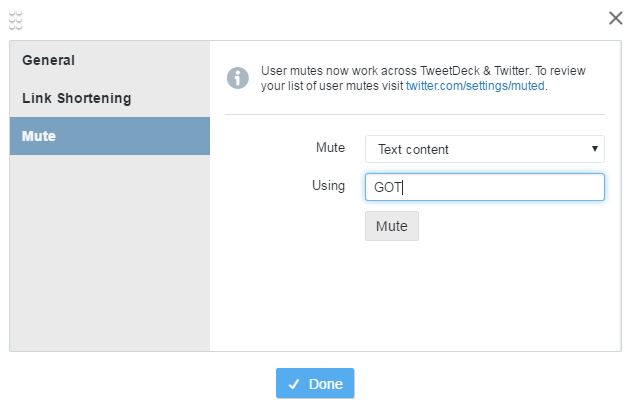 Download the Tweetduck PC client

If you are lazy, you still have the browser extensions. Among these extensions are Larry Filter. Again, the configuration takes a few seconds. In no time at all, you can take in the hashtags or unwanted users and that's it.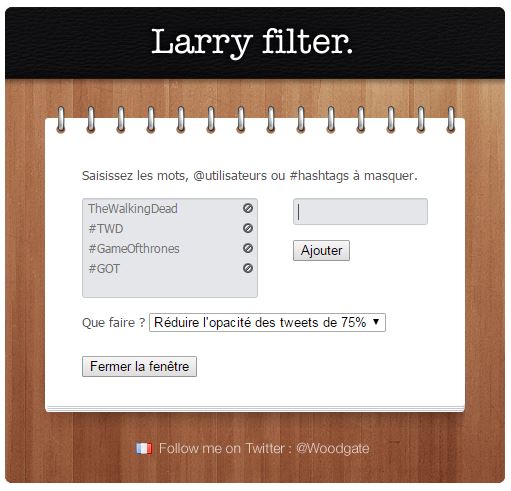 Install Larry Filter in his browser
On Facebook you still have two more levers: to act on users or on publications. As for users, all you have to do is go to the Facebook page of friends who take a wicked pleasure in spoiling you and unsubscribing from their publications.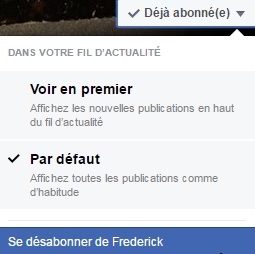 For publications, you can use the Social Fixer extension. Very complete it allows you to filter your news feed according to keywords and their authors.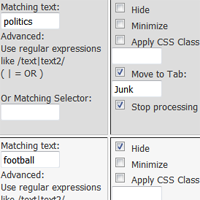 Install Social Fixer in your browser
"Filter" the Web in general
Every time an episode of the current series is broadcast, Google's news pages are full of articles and news that reveal its plot. It's hard to miss. Fortunately, here again, we can rely on browser extensions. Unspoiler, for example, allows you to block all content related to your favorite series. Just install it through the Google web store. Once installed, the app icon will appear in your toolbar on the right. All you have to do is click on it and enter the name of your series. Confirm with the "Unspoil" button.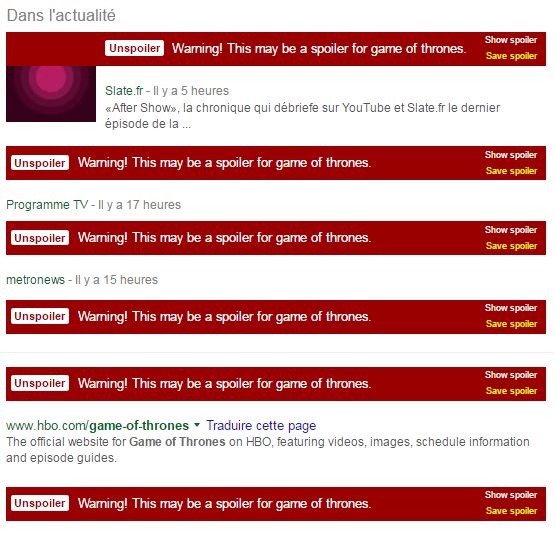 As you can see, the extension is quite effective. It hides all the content related to your series with a red banner. You have the possibility to save the links or let yourself be tempted by the devil.
Here you have the complete anti-spooling toolbox to use without moderation for all the films and series you follow. If after that you still get spoilt, all you have to do is live as a hermit.
Articles on the Same Subject