Installing Windows 10 on the Nintendo Switch: a project on track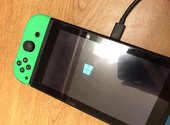 The development of solutions around the Switch hack is intensifying. Recently, developers have set up projects that would eventually allow Switch games to run on an Android device and, conversely, install Android applications on the Nintendo system. Bingxing Wang, another specialist, wants to go further. The developer hopes to install Windows 10 on the Switch.
For the technical aspect, it is important to know that the Switch works with an ARM chipset. Bingxing Wang is therefore looking to port Windows 10 to this ARM chipset. The developer developed a dedicated firmware using the EDK II firmware development environment and a Windows 10 driver.
The expert even managed to start Windows 10 on the Switch, but the operating system eventually crashes systematically, as shown by the pictures published on Twitter.
According to Bingxing Wang, his project still requires cleaning up, fixing major bugs and working on device management. Wang's project is open source and available on GitHub under the name NintendoSwitchPkg. If you want to take a look at it or even contribute to the development of the Windows 10 port on the Switch, you know what you still have to do.
Admittedly, installing Windows 10 on the Switch does not seem very relevant for everyday use, but it is always exciting to observe the technical prowess of developers when they divert the primary uses of the devices.
Source: BingXing Wang via Bleeping Computer
Articles on the Same Subject