Genealogy software test: Poinka Ma Généalogie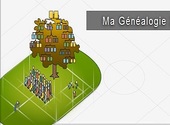 Poinka is a software publisher for individuals that focuses mainly on leisure and family. Among its extensive software catalogue is a genealogy software, simply called My Genealogy. The latter is one of the cheapest software on the market. Offered for €13.49, according to its publisher, it offers "all the important information for creating and monitoring your family tree, quickly accessible and modifiable". A very beautiful promise that we wanted to verify for ourselves. So if like us, you are curious to know what is behind the My Genealogy software, continue reading this article and discover the strengths and weaknesses of this software, available only under Windows.
1. Interface
Aesthetically speaking, my Genealogy is far from winning the unanimity of our editorial staff. The software has a "timeless" interface, more like papyrus than a real family tree. The small leaves to remind us of the tree remain very childish, as do the pink and blue colours to distinguish women from men in the family. Beyond the lack of modernity, the interface is readable and easy to use. The different generations are indeed quite distinct from each other. We will regret the lack of branches. Users cannot go back as far as they would like in their family history, which is unfortunate for a software that is the concept.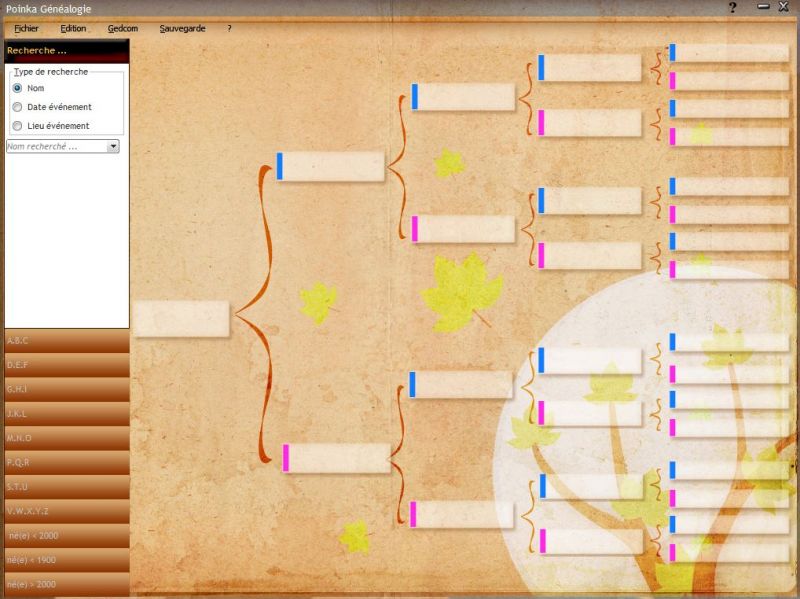 Poinka Ma Généalogie software interface
Concerning the toolbar and menu, here again sobriety is essential. No big buttons as you might see in other genealogy software, but just five tabs common to all: "File", "Edit", "Gedcom", "Backup" and "? " (for help). On the left side of the interface, a classic search engine overlooks an alphabetical list where family members are automatically classified by name and date of birth. Simple but effective.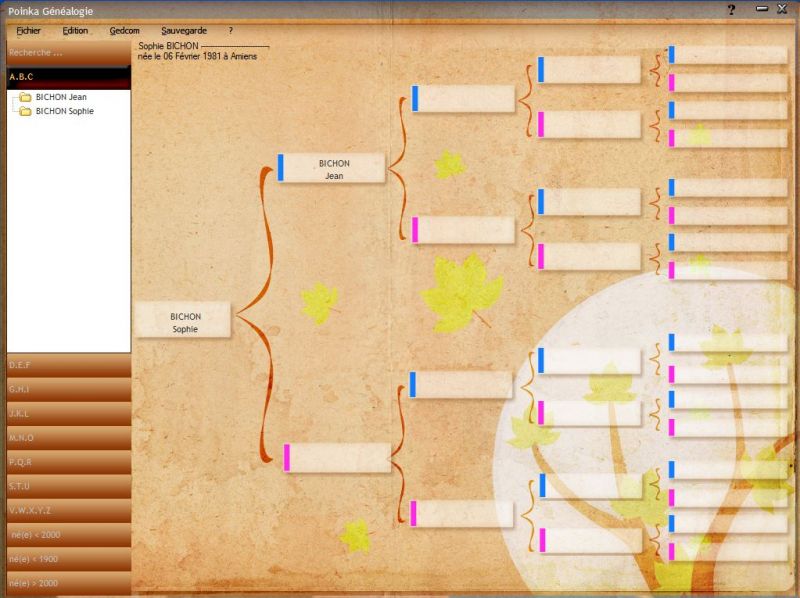 Simplistic search engine
2. Features and functions
Like its interface, Ma Généalogie is a software that has very few functionalities. Indeed, apart from creating a family tree, and searching for individuals within the program itself, the program does not offer any advanced options. The entry of each individual is then done manually (including for surnames), which forces users to rewrite the same thing several times. Nevertheless, the sheets are very clear. It is indeed possible to enter the address of each person, the unions, events, ancestries and descendants, as well as all data related to civil status. The sheets can be illustrated with a photo by simply clicking on the tab provided for this purpose.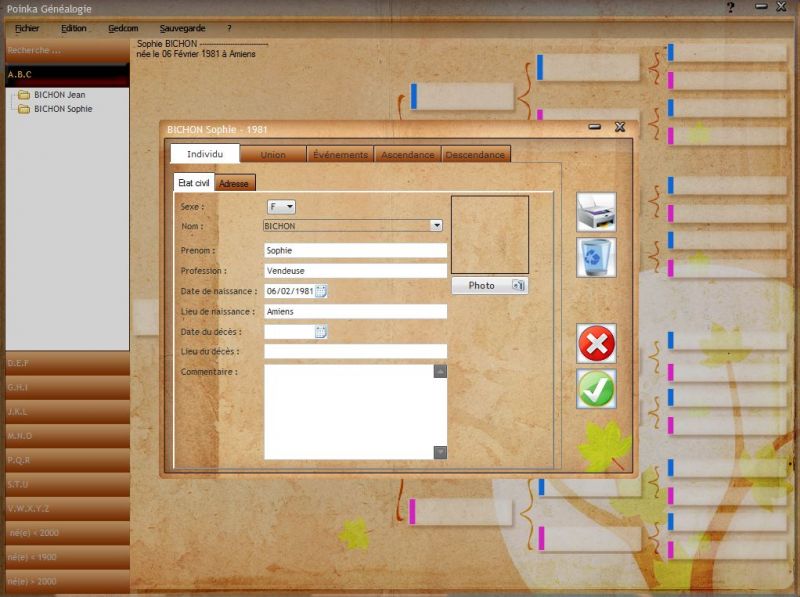 Quick creation of individual records

Another available and very practical feature is the import and export of Gedcom files. Several advantages to using a Gedcom file. First of all, these files are readable by all word processors and other genealogical software. This way, you can use a single file with several software programs, without any problems. But Gedcom files are above all real time savers. Indeed, they allow you to automatically create a family tree using the information they contain. An essential tool for all users of genealogy software.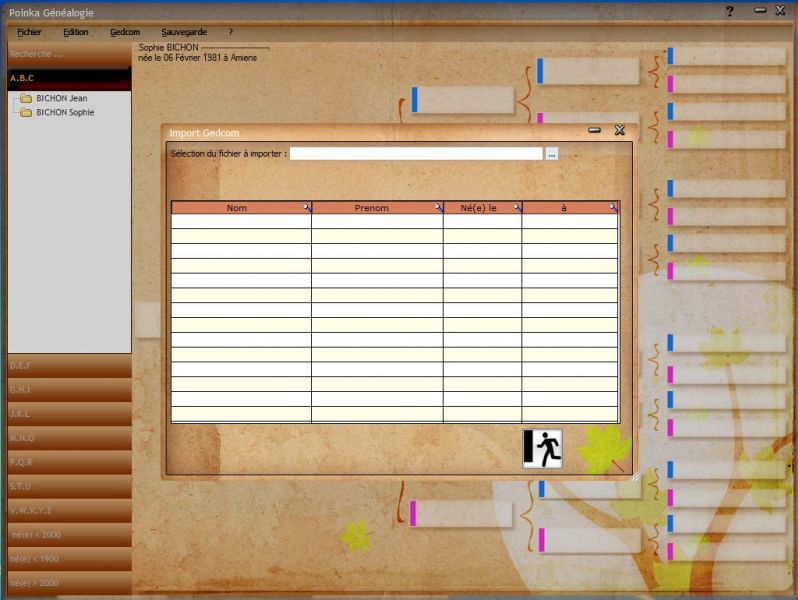 Importing Gedcom files
3. Intuitive software

The last criterion analyzed during the My Genealogy test was intuitiveness. And here again, what can I say? The software is sorely lacking in intuitiveness in the sense that nothing is done to save the user time in any operation. Thus, making your family tree with this program is much the same as making your family tree on paper, plus the keyboard. Copy/paste features are available but do not bring much to the program, as does the search engine, which ultimately takes as long as the traditional manual search.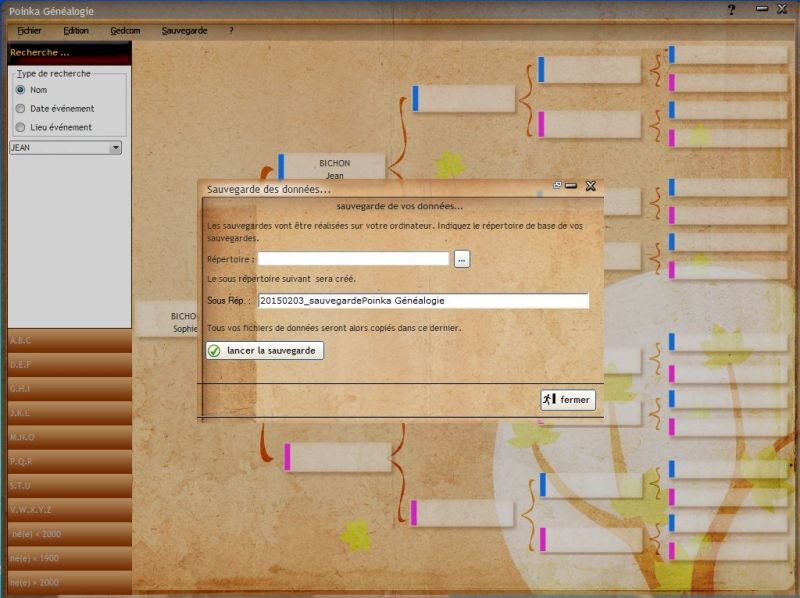 Family tree backup
Beyond that, My Genealogy remains a software accessible to everyone that does little but does it well. Efficient in processing Gedcom files, it is also efficient in error detection. The family tree being a logical and chronological tool, it is impossible to skip a step when creating your tree. The program identifies the empty boxes, and asks you to fill them in order, to avoid inconsistencies or duplicates.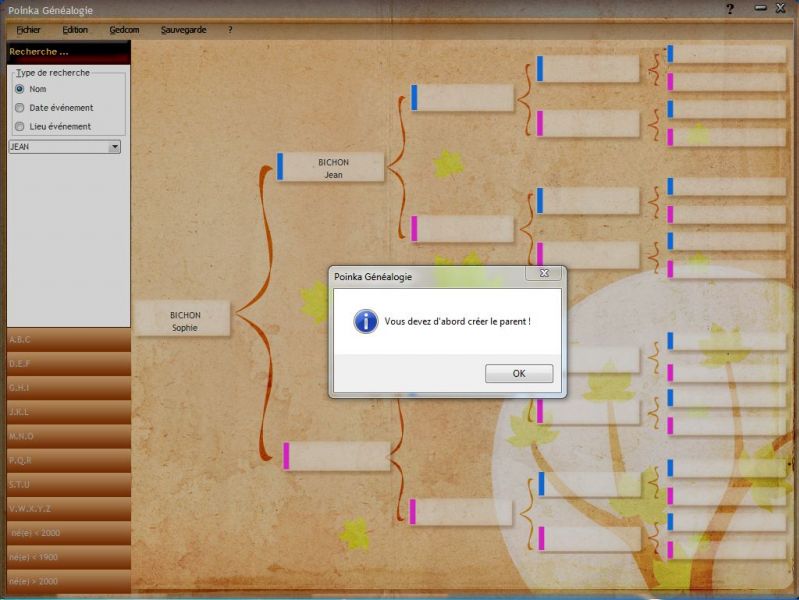 Input error !
Assessment of the Poinka My Genealogy Test
Generally, when you talk about paid software, you talk about intuitiveness and advanced features. Well, with My Genealogy, we could see that this was not always the case. An outdated interface, basic tools, such could be the summary of our test. Disappointed by the lack of modernity of the program, it is above all its lack of options that has left us particularly hungry. The software is not a paid software, and is even less powerful than some free software, which for the moment brings a new breath to genealogy. So if you want to spend €13.49 in a genealogy software to see for yourself, but personally we advise you to test the software before taking the final step.

Back to the home page of the file
Author :

Justine Catherine
Articles on the Same Subject