Sage participates in the 2019 Entrepreneurs' Fair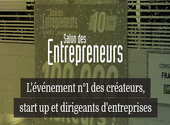 Sage, the accounting software publisher, announces its participation in the 2019 Salon des Entrepreneurs, which takes place at the Palais des Congrès in Paris. Here is the text of the announcement:
"Sage, the market leader in enterprise cloud solutions, will be present at the Salon des Entrepreneurs on February 6 and 7, 2019. For this major event dedicated to entrepreneurship, Sage will give entrepreneurs all the keys to meet their needs and challenges. To achieve this, Sage will showcase its institutional partners and clients on a unique stand focused on interactivity, sharing best practices and live testimonials.
A year of sharing
Throughout the exhibition, Sage's stand will become a real platform for exchanges and feedback with numerous interviews, with the common thread being "the entrepreneur's journey". Leading partners such as Moovjee, UAE, PayPal, GoCardLess, etc. will be involved to provide their expertise. The publisher will also propose to review the Sage Business Cloud Compta & Invoicing solution, which allows entrepreneurs and VSEs to manage their cash flow, issue quotes and invoices calmly, thus devoting more time to the growth of their business."
To register for the event, go to the organizer's page.
Articles on the Same Subject