Beginning of Shadow-World, Keynote and first announcements for Blade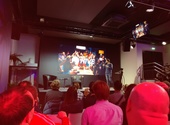 Blade, the company behind Shadow, the gamers' computer in the Cloud, started its first "convention" called "Shadow-World", an event for and by the brand's fans, which began with a keynote where not only the product's successes were discussed, but also the pitfalls and some new features, including a new interface for players, close to those of social networks, which is called HIVE.
James Bond villain
Emmanuel Freund does not have the draw of Mr NO or GoldFinger, nor the phlegma of the antagonists of the famous English spy. Yet he has the same ambitions, namely to create a base on a remote island and build a laser gun, and to do so he is ready to convince the assembly of journalists and influencers that his cloud machine is the best in the world.
It is therefore in all apparent relaxation, nuanced by a hint of nervousness, that he speaks for his American-style keynote, but in a Pantruche style, with false video starts, slipping slides and good jokes worked in the wind tunnel. Blade's boss, without his co-leaders, has a certain ease in unfolding the necessarily difficult story of the first real computer in the Cloud, between murderous lags and a failed Proof of Concept. But the sunny days are coming quickly and finally 2018 embraces success (50,000 users) and a satisfaction rate of more than 80%. Emmanuel is happy and it shows, he relaxes to discuss the announcements and present the future.
My name is Hive
Hive is the name of his first innovation within Shadow: A service, an interface, a social network, all this or almost none at all, but something that already works. It's a way to share your session with one of your subscriber friends, a kind of Co-op mode within a solo session. The principle is unclear: Start a game, randomly PUBG, and play as a Scout. The tension rises and the hair gets wet, you can leave the hand to your teammate who will exchange his character with yours while he eliminates some threats, a task for which he is more talented than you. Imagine a cheating mode without aimbot or invulnerability mode and you have an idea of what Hive can do.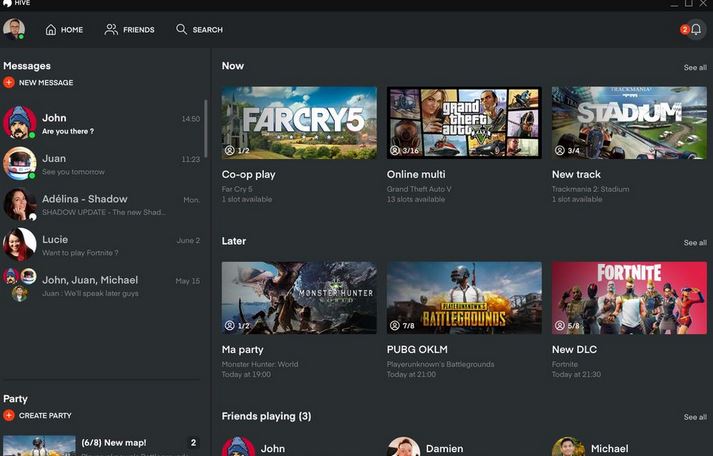 Sneak-Peek
Another new feature is the "Sneak Peek" mode, a Picture in Picture mode that allows you to evaluate two game sessions and alter images during the session. Imagine a game of Rocket League upside down, pixelated or on a fly-eyed multipurpose screen, you will have an idea of what "Sneak Peek" can accomplish. We are waiting to see, which will not be long now since pre-registration for this service has started (if you have the link, we would like to) and the closed Beta will start in about 15 days.
Last but not least, a first partnership with the Natéo studio has been signed: Users can therefore expect games specially designed for Shadow's Cloud platform, which can disengage technical barriers related to network capacity. First proof of this collaboration, a special version of Trackmania is offered as soon as possible to Shadow subscribers. The tools for modifying the game are also available, so we are waiting for the first creations that will free themselves from technical limitations.
Of course, with names like "Blade", "Shadow" or "Hive", Emmanuel Freund clearly shows his ambitions as a bad spy movie villain and confirms it by asking his subscribers to come and build his future secret base. An ambition to be taken seriously, but not before the billionth subscriber.
Author :

Frederic Pailliot
Articles on the Same Subject