You will no longer be able to buy ADOBE Lightroom 6 : you will now have to subscribe to it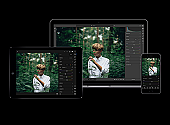 The ADOBE Lightroom 6 product will disappear definitively in perpetual license from the 28th of February in the evening. If you wish to have this software permanently, we advise you to buy it with this date.
Adobe is not immune to the trend that publishers are now offering their software as a subscription rather than a perpetual license. Today, if you want to take advantage of Photoshop Lightroom 6, you will have to pay a certain amount every month, or year-round.
The advantage is that you benefit from the best technologies updated in real time. The disadvantage is that the day you decide to stop your subscription, it's over: you don't keep track of the software, despite the money you've spent.
The product will have to disappear from the merchant sites and the official site from February 28th, so we advise you to decide quickly if you hesitate to buy the license while it still exists, if you have not yet done so.
For more information or to download Photoshop Lightroom, please click here.
Articles on the Same Subject