The OnePlus 7 presented on May 14?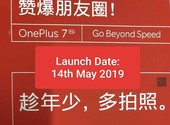 In recent weeks, leaks about OnePlus' next smartphone have increased. The latest information was released this weekend. According to this rumour, OnePlus 7 would be presented on May 14. What is it really like?
The Indian leaker Ishan Agarwal has specialized in leaks for the Chinese brand. He had also revealed that the troublemaker had worked on three models of OnePlus 7:
OnePlus 7 (GM1901,03,05)

OnePlus 7 Pro (GM1911,13,15,17)

OnePlus 7 Pro 5G (GM1920)
OnePlus 7: rumors, features, prices, release date, everything you need to know
On Sunday, he posted a tweet about the flagship, stating with certainty that the OP7 would be officially unveiled on May 14:
"Okay, I'll stop with the estimates and give you what you want. I can confirm that the OnePlus 7 series will be launched internationally on May 14, 2019! There is exactly one month left before the revelation of the OnePlus Flagship Killer. »
Although this information must be taken with a grain of salt, Ishan Agarwal has built a solid reputation by regularly posting reliable information. The leaker also took the opportunity to specify the characteristics of one of the OnePlus 7's photo sensors. According to him, it would be the 16 MP IMX519 module manufactured by Sony. This sensor is already present on the OnePlus 6T.
Previous rumours have reported a triple photo sensor on the back of the OnePlus7. It is not yet known whether this triple sensor is only reserved for the famous Pro version leaked by Agarwal.
Source: IshanAgarwal

Articles on the Same Subject