The school edition of Tap'Touche is updated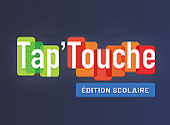 The Tap'Touche typewriting software has just been modernized by its publisher. Druide informatique informs us of a new version of the tool, to allow a fluid and playful learning of keyboard writing.
Learn to type with Tap'Touche
Tap'Touche is a computer software for individuals and schools, it allows younger children to learn to type on a computer keyboard and to gain in speed more easily. The application is designed so that children can progress while having fun.
Smoother and more unified graphics
The graphic redesign was used to give a softer and more neutral look, so that students of all ages could find their way around. For the same reason, the environments that could be found in each of the three age groups were unified, making the transition between two groups more pleasant.
Improve Tap'Touche's efficiency
Several elements have been modified to improve the fluidity of the interface. First of all, the controls, which have been redesigned to allow the most natural handling possible. The logos representing the learning activities have also changed skin to be clearer on the proposed activities. The graphic redesign was also used to better exploit the entire screen offered to the student.
The achievements panel has also been redesigned to that the student can better understand his or her progress, and that it is more fun, thanks to the badge systems to be obtained, and the stars to be won.
New version, new content, new portal
30 new exercises dedicated to automation have been added. Some, for example, consist in gaining speed on typing words with similar syllables, such as words ending in -tion, -ment, or -ique).
Tap'Touche was already accessible via the portals of Google and Microsoft Office 365, it is now accessible on Clever. These are the followinga popular platform in the United States: it allows each student and teacher to access all the online learning programs and resources that concern them through a single interface.
To learn more about the Tap'Touche software or to download it, do not hesitate to visit the software library page concerning this product.
Sources :
The official website of Tap'Touche
The editor Druide informatique
Articles on the Same Subject