Ticketing software: market overview with these 5 tools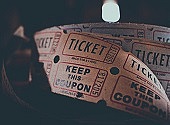 Event organizers, public relations officers, corporate event managers, venue managers, festivalgoers, etc. Many professionals in the cultural and event sector have to turn to ticketing software.
Find your way through all the offers on the market
The needs are not the same from one trade to another, which is why ticketing tools are not rare. This is good news, since there is necessarily an ideal solution for your business on the market; bad news, you will have to compare the offers of each publisher.
We offer you this overview to familiarize you with the names and guide you towards the most appropriate IT solution with your specifications and budget. Of course, we advise you to have thought about both before choosing your IT solution.
Here are five ticketing solutions that all have in common that they are available online, allowing you greater freedom of movement and easier access to the tool.
Digitick Systems
It is a must in the sector, and for good reason, it covers a very wide range of specialities:
Live performance

Museums and places of visit

Leisure parks

Festivals, events

Sport and arenas
You will find IT tools for ticketing and sales (online or on site), but also for secure resale, administration, advertising management, and digital marketing: it is an important publisher, operating in a large part of Europe and the United States with customers such as Rock en Seine or the Château de Versailles.
With DigiticK Systems, you are therefore assured of using software that has been tried and tested for several years and adapted to the problems of your structure, with quality support, via the hotline and the forum.
Good to know: Digitick is also a retail ticket seller, which is the company's primary vocation. This suggests that the company is well aware of your customers' expectations.
Legilog
Like Digitick, Legilog has been on the market for a long time (30 years). This publisher offers software dedicated to the cultural sector, without making any significant differences between the different types of organizations that can be found in this sector.
On the other hand, the software is fully scalable, which allows it to be adapted to the size (and budget) of the company. In terms of functionalities, Legilog concentrates ticketing tools (online or on site), as well as management and accounting tools (general and payroll).
Legilog has the advantage of offering a Public Relations tool, in order to have a complete, centralized and segmented catalogue of contacts (spectator categorisation, family management, geographical areas, etc.).
The publisher is also known to offer accounting management software for all sectors, as well as software dedicated to the field of worship and bishoprics. We would therefore recommend this tool more to structures such as very small businesses or SMEs, establishments such as theatres or museums looking for management, accounting, sales and marketing tools.
For event organisers and festival-goers, it may be better to opt for a suitable solution, taking into account short contracts and requirements specifically related to the world of events (such as YurPlan or Digitick).
YurPlan
This solution is really made for event organisers, it seems less suitable for institutions to manage their daily lives, such as sports stadiums, theatres, concert halls and museums.
It is not a question of managing an annual daily program, but rather of launching an event, managing its communication, ticket sales, and the influx of audiences and team members at the time of the event.
Of course, anyone can use this application to manage an event, whether it is a cultural establishment, public or private, an association, a company or even an individual.
YurPlan offers several organizer packages:
The Night

Festivals

Cultural

BtoB exhibition & congress

BtoC Lounge

Sport
When you create your event on the online site (or via one of the two iOS or Android applications), you must enter the type of event organized: gala, business, concert, conference, cultural event, sport, clubbing, leisure, festivals, trade show, theme evening, student evening, and nature.
YurPlan includes an online ticketing and registration system, an on-site ticket counter to sell tickets, and a CRM. Among the additional modules, you can choose the event registration management tool, an online shop to buy products on site several days in advance, or an exhibitor management service.
TickBoss Web
TickBoss Web can be a good solution for organizations that want to take advantage of the benefits of an online solution without spending all their tools in the cloud. The publisher offers an online ticketing tool, and the rest of the functionalities available locally on the company's workstations.
Originally created to meet the needs of the Festival d'Avignon, TickBoss is a publisher known for its ticketing for over 15 years. Festivals, but also many town halls use it, as well as theatres and universities.
TickBoss prides itself on being "the cheapest computerized ticketing solution on the market", including installation, training, support and updates.
Regarding its features, TickBoss is as simple as possible, but with all the necessary tools. You will find the seating plan with the numbered or free rooms, by zones, with management of shows and performances.
You can sell your tickets, book, edit invoices, check quotas (e. g. discounted tickets). It is possible to customize the printing of tickets, to postpone it, or to make dematerialized prints, to make Gift Certificates, etc.
Open, by Rodrigue
A heavyweight on the market for 17 years, Rodrigue offers "Open", a solution specialized in ticketing and audience management.
Alongside Open, Rodrigue's products include a white label solution for online sales, another for targeting and segmenting audiences, a flow and access management tool, CRM tools and even a "Jyvaiplu" tool for exchanging and collecting tickets.
An interesting new feature of Rodrigue is the possibility of offering customer spaces for buyers, who use them to identify tickets and give them to beneficiaries.
Rodrigue is aimed at operas, theatres of all sizes, entertainment venues, local authorities, tourist offices, sports clubs and events (Formula 1 Grand Prix of Belgium), cultural sites (including the Eiffel Tower), leisure parks, fairs, exhibitions (the Salon de l'Agriculture), events, etc.
To conclude
We could also have told you about Sirius, which is very popular with theatres, or Kabao and the 3rd act, but these solutions are particularly focused on the management of theatres and concerts.
To know everything about ticketing software, do not hesitate to consult Logitheque Pro in the sub-category "living arts", section "Cultural and associative sector".
Articles on the Same Subject