Two thirds of antivirus on Android are ineffective!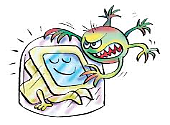 The AV-Comparatives organization, which specializes in antivirus testing, has conducted tests on more than 250 antiviruses available on Google Play. And the observation is clear: of all the applications tested, two thirds of them are absolutely useless.
Ghost antivirus software
In addition to the well-known editors already available on PCs such as Avast, Bitdefender or ESET, a large handful of other developers have appeared as if by magic and each has offered their Android antivirus.
But these applications are, for the most part, only empty shells that do not scan the files on the devices and therefore cannot neutralize viruses and malware. Worse, some antivirus software even manages to consider itself as malicious applications.
AV-Comparatives also indicates that some "antivirus" programs only have a white list of authorized applications and indicate as "malicious" any application that is not part of it. Some developers who forgot to add their own antivirus software to the list end up with security apps that distrust themselves:"Most applications seem to have been developed either by amateur programmers or by software manufacturers who do not focus on security. In this second category, there are developers who create all kinds of applications that advertise or monetize. "explains one of the researchers at AV-Comparatives.
The tests also show that many applications had a very similar interface, which reminds us of the Total AV case on PC.

A handful of Android antivirus software does well
According to AV-Comparatives tests, 23 Android antivirus software have detected 100% of the malware submitted to them. The organization advises to check the Google Play sheet before downloading an Android antivirus and especially the options to contact the publisher. The absence of a website, for example, is often a sign that the developer is not very serious. Alternatively, you can also consult our Android antivirus comparison.
Articles on the Same Subject