What's the point of a VPN comparison?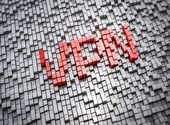 You are looking for a VPN, either because you want to protect your identity on the web, or because you want to access the Netflix US catalogue, or because you want to download Japanese games from Google Play... But you don't know which one to choose. Fortunately, there are a multitude of VPN comparisons on the web. So much so that you will soon need a VPN comparison comparison to find your way around... But why are there so many of them?
It's beautiful my VPN
There are dozens of VPNs, before we called them "software to hide your IP" but the acronym "Virtual Private Network" has since replaced the old term and reigns supreme on the web. VPNs are sold to you in all kinds of ways: in "display" ads, via sponsored articles, via promotional code... and also through articles and tests, gathered under the term "comparative". We know it well, we have also written one (yes well ok we need to update it) and regularly we write content around these software. Do you know why? It's simple: THE FRICK!
Let's not kid ourselves, all we do here is write content to generate audience to generate revenue. We have an in-house team (in France, not offshore) that is dedicated to managing, writing, finding, updating and refining a site that we hope will provide you with practical information on how to use the software, inform you and allow you to download applications in complete serenity. So when we see a promising theme, we treat it naturally. And all media sites do the same.
But why is the NPV so interesting to people? Mystery. In any case, it is of great interest to advertisers who are sufficiently numerous and who have their pockets full. Advertisers looking for platforms to deliver ads. Most of these advertisers are also publishers, who try to cut out intermediaries and contact certain sites directly to propose "win-win" partnerships. Thus, NordVPN, CyberGhost or TunnelBear can contact us directly and offer us to set up operations, either advertising or in affiliation.
However, publishers love affiliation: If our site sends a visitor to a partner site and the latter makes a sale, we receive a commission, i.e. a fraction of the selling price. For the software publisher, this is interesting, because it sells directly and it costs less than Adwords campaigns. For the site, it is also interesting because the remunerations come in addition to the other incomes and some products sell much better than others.
Ten years ago, the madness was antivirus software. Now it's the VPNs. The latter have two advantages: No need to have graduated from an engineering school to use them, or even test them. You don't have to go to publishers or browse affiliate platforms to find them either, they find you!
It's not complicated: You have a site that deals with computer news, software, mobile phones or grated carrots, you're guaranteed to receive a solicitation to talk about VPN at some point.
"It would be nice to put a link for CastorVPN in your article on Christmas logs." "Feel free to talk about WhizzVPN on your site, it's really effective"
It is not only publishers who ask us for help. So do marketing professionals:
"Do you know a better VPN comparator? It is the best VPN comparison on the Net. If you mention it in your pages, your readers will thank you.
Or affiliation platforms:
"Do you know MachinVPN? Win $10 for every sale of MachinVPN! Register here!"
To check, do the test yourself: Type "VPN comparison" or "best VPN" in a search engine. You will find sites tailored to sell VPN, but also sites that have nothing to do with sauerkraut trying to position themselves on these requests and become a millionaire. It's a bit of a battle to appear on the front page, and very often it's sites specialized in this theme that do the best job.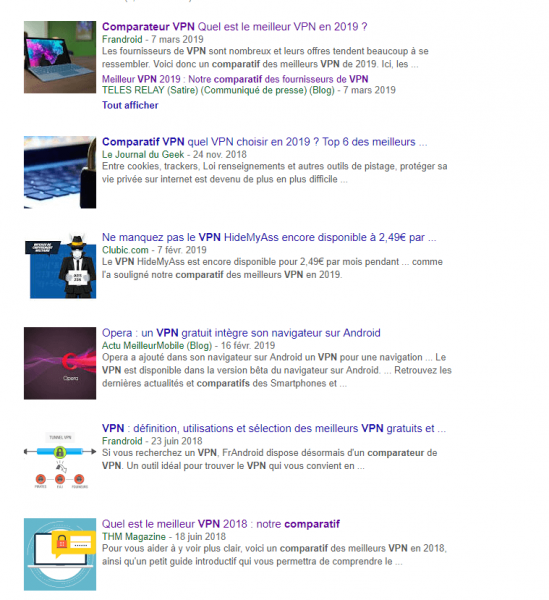 There is even a VPN news
The VPN bubble will explode
Too many VPNs are killing the VPN, and some have already fallen in battle. PC, Mac, iPhone, Android, Linux... All platforms benefit from the good graces of the editors and no support is left behind. All this to protect privacy, prevent data theft... Or to look at Netflix and its much richer US catalogue.
While the number of software products has naturally decreased (some have been bought by larger publishers, sometimes assimilated to antivirus software, others have been concentrated under a single brand), the number of platforms that deal with VPN continues to grow. Informative websites certainly, but also websites created solely for commercial purposes.
We had already exposed this type of site before: Specialists in this format create evocatively named "comparisons", promising tests and in-depth articles on the subject. In fact, these are marketing products optimized for small onions and whose only purpose is to sell sell sell sell. No tests have actually been performed, scores are delivered in such a way that no software is bad or even average and "tests" are generic articles composed of 50% bullshit and 50% pump. And very often, "classification" is that of the best commissioned products, and not that which reflects the effectiveness of the product.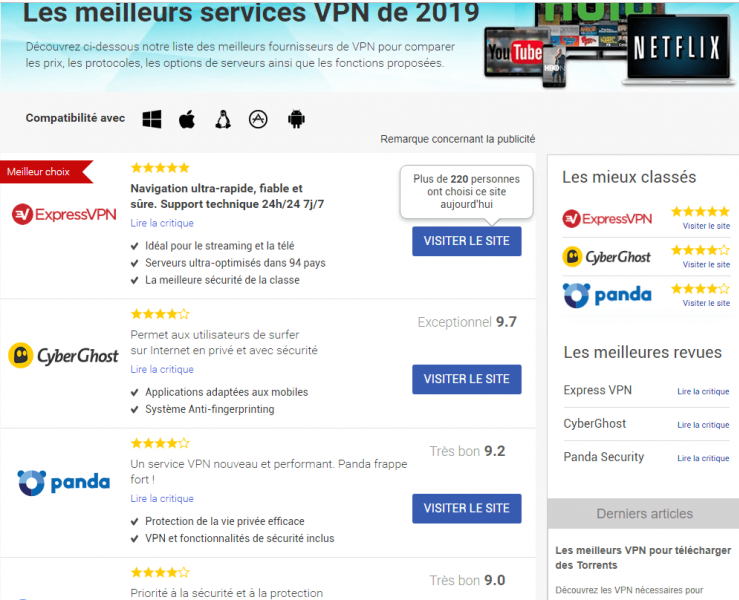 Certainly very reliable tests....
We must understand them: These products are on the rise, the demand is there and the public is trying in every way to hide while they search for pornography from the governments that are spying on us and not to leave any traces. They are easy to set up and offer interesting services, such as misleading a browser about its geographical area, or accessing particular networks. After all, TOR is finally the most complete free VPN to date and it offers a lot of benefits.
However, we should not fall into the trap. If you are looking for a VPN, we advise you first of all to rely on sites that actually perform tests, comparisons and verifications and above all that provide you with interesting information and precise explanations of how they work.
Author :

Frederic Pailliot
Articles on the Same Subject