Which free VPN is really free?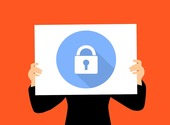 Online privacy protection is becoming a little more important in the global digital landscape year after year. VPN software that makes it possible to be anonymous on the web is on the rise. There are many VPN providers. These suppliers are aware of one thing: not everyone is willing to pay for occasional access to foreign sites or particular services while remaining anonymous (TV channels, videos, streaming platforms, P2P...). It is therefore logical that they offer free offers. But as they say: "if it's free, you're the product". This is an adage that has a particular resonance when it comes to solutions that are supposed to protect the privacy of their users. In this article, we have modestly examined 4 of the best known free VPNs to help you better understand what is behind these offers and to better choose your solution.
Betternet
Betternet is a VPN software available on PC, Mac, browser and mobile devices. It impresses with its intuitive interface, its correct bandwidth and above all its unlimited nature. You read well: a free and unlimited VPN with a correct bandwidth. Perplexed, huh? Let's see what's behind it.
How is Betternet remunerated?
Betternet claims on its website (EVERYWHERE ON ITS SITE) that it is partly financed by advertising (especially in the mobile application). Each time a user clicks on the announcement of an application in the Betternet interface and installs it, the VPN provider receives a commission from the publisher of that application.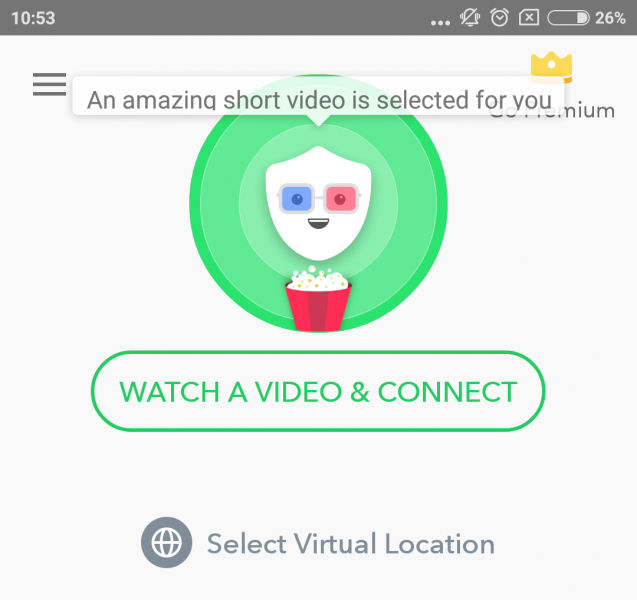 Betternet suggests that these advertising revenues cover the operating costs of its free applications (server maintenance, etc.) so far. The company states on its website that the application will remain free as long as advertising revenues cover maintenance costs.
At the first launch on Windows and Android, a box that you can close encourages you to switch to the trial version of all paid features for 7 days. You can cancel this subscription at any time but you must enter your bank details.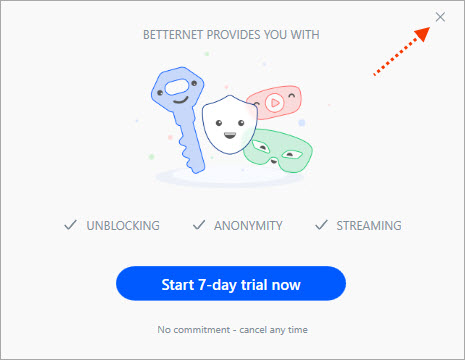 At the end of the trial period, if you do not consider unsubscribing, you will automatically switch to the offer allowing you to enjoy Betternet for an unlimited period of one month for $11.99: a somewhat brutal approach, we grant you that.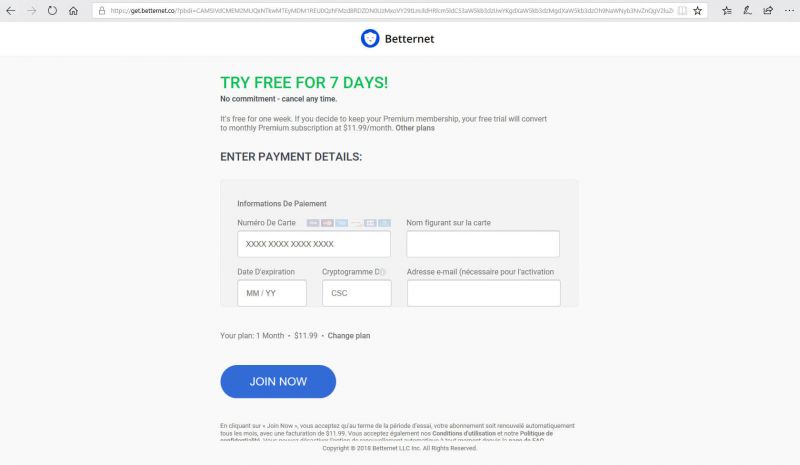 Note also that Betternet also offers the Betterspot, a VPN router introduced in 2016 that has since disappeared from radar.

Windscribe
Windscribe adopts a different strategy based on the amount of data passing through the VPN every month. Thus, in the free version of the VPN, you can use the VPN free of charge as long as the data downloaded during your browsing or file exchange does not exceed 10 GB. When you reach this 10 GB, you must wait until the account is replenished the following month.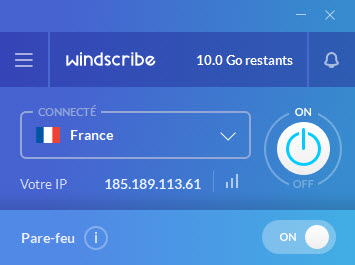 All this is possible if you create a free account on the Windscribe website. If you do not, you can still use the software but only for 2 GB per month. It sounds like a good compromise, if protecting your privacy is your primary concern. In its free version (with or without registration), the software offers about ten servers in a dozen countries.
Why is Windscribe free?
In its privacy policy, Windscribe is transparent about the data collected (language, screen resolution, referrer website). The PC and Android versions of the VPN software are not polluted by unwanted advertising. With these "honourable" features, why is such a VPN free of charge? Where is the wolf?
Windscribe generates revenue through two levers:
Its premium offers

Cryptomining on its site
Yes, on its website, Windscribe offers a page to allocate a portion of its machine resources to cyptomone mining for the company. Nothing illegal in itself since you are warned and you can choose the amount of resources allocated.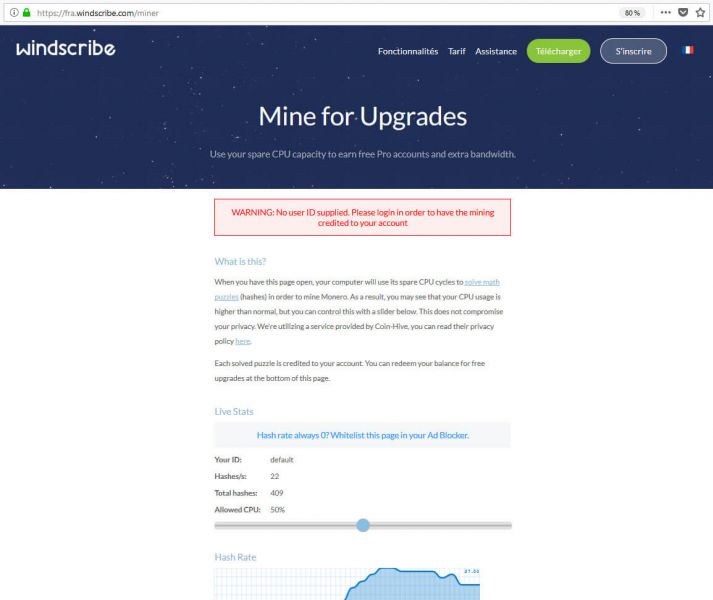 Many sites, especially those that offer torrent file downloads, are adopting this compensation system to generate a little more revenue since web browsers are better at blocking ads.
VPN Gate - Softether
VPN Gate is the brainchild of a Japanese academic. It allows everyone to share their Internet connection to pass VPN connections through it. The VPN Gate project uses Softether software, a powerful tool that can compete with OpenVPN. VPN Gate is completely free and requires no registration.
This solution is clearly not the most stable, nor the least efficient, but it is really free: no ads, no cryptomonnaise mining, no registration or subscription.
Psiphon
Psiphon is an open source tool available on iOS, Android and Windows. At the first launch on Windows, nothing shocking: no registration required and a satisfactory list of regions. However, when it comes to connection speed, you can't expect to enjoy good bandwidth.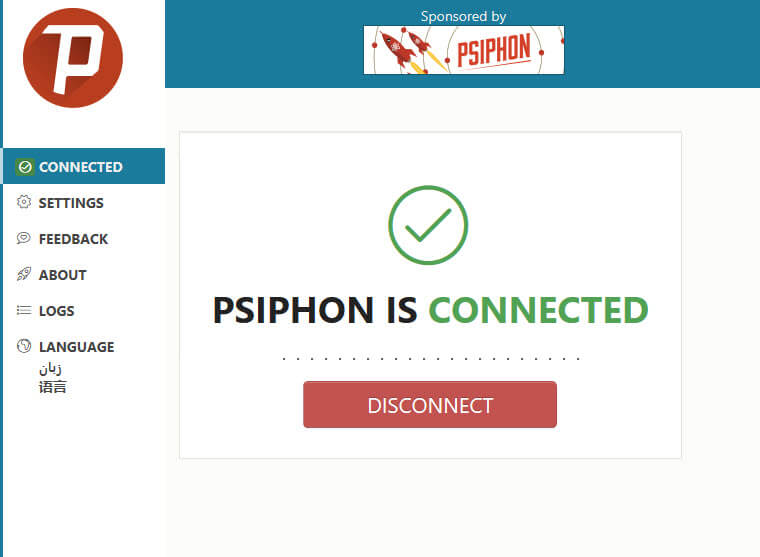 Advanced users will notice that the software does use VPN technologies but it is not really a tool for being anonymous online. Rather, it is a solution to circumvent geographical restrictions.

How does the publisher of Psiphon pay himself?
If the PC version is relatively "clean", without unwanted advertising, the Android application is much less so.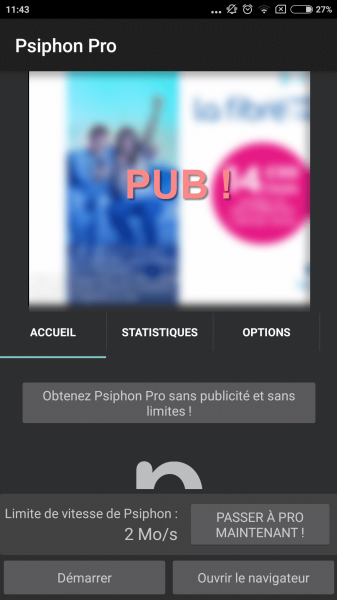 On its site, Psiphon states that it "sometimes uses advertising to support its services, which could use technologies such as cookies and web beacons".
The free VPN market
Most free VPN software is offered by small players. When suppliers with a little more weight, such as TunnelBear or Avira, offer free offers, they are usually extremely limited offers that only serve to present the main features of the software and attract new users.
Suppliers generally use two methods to finance themselves: advertising and premium offers. Other more "exotic" methods such as cryptomining through your web browser can also be used.

Please note that all the VPNs in our selection, except VPN Gate, are based in a country belonging to the Five Eyes agreement: Canada. We are not going to get into paranoia and conspiracy theory, but this Five Eyes agreement means that Canada and its counterparts (Australia, New Zealand, United Kingdom, United States) are bound by a treaty providing for cooperation between their various services involved in the collection of digital data. The NSA, which has already been splashed several times by scandals, is one of them.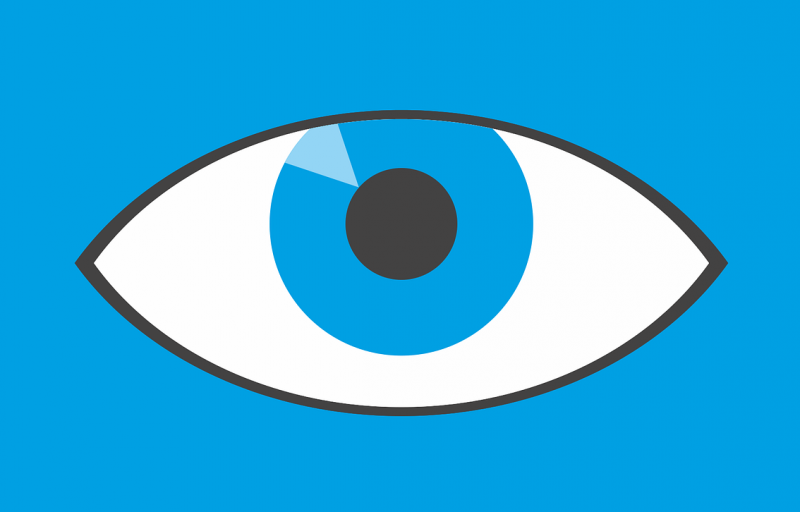 In other words, if total anonymity is really the first concern, avoid a VPN provider based in one of these countries. In the end, in pseudo-free VPNs, we don't have much left. However, two solutions can be mentioned: Proton VPN (based in Switzerland) and Hide.me VPN (based in Malaysia).
Both offer only 3 regions, 2 GB and servers with limited bandwidth. We will be happy to test them soon in our free VPN comparison to tell you what's going on.
Concerning our question of the day (see our title), you will have understood by reading this article, or even before, that free access in this area is illusory. Suppliers of such products will always seek to sell you their premium version or to recover commissions via advertisements placed in the applications thanks to some of your data that seem harmless to you.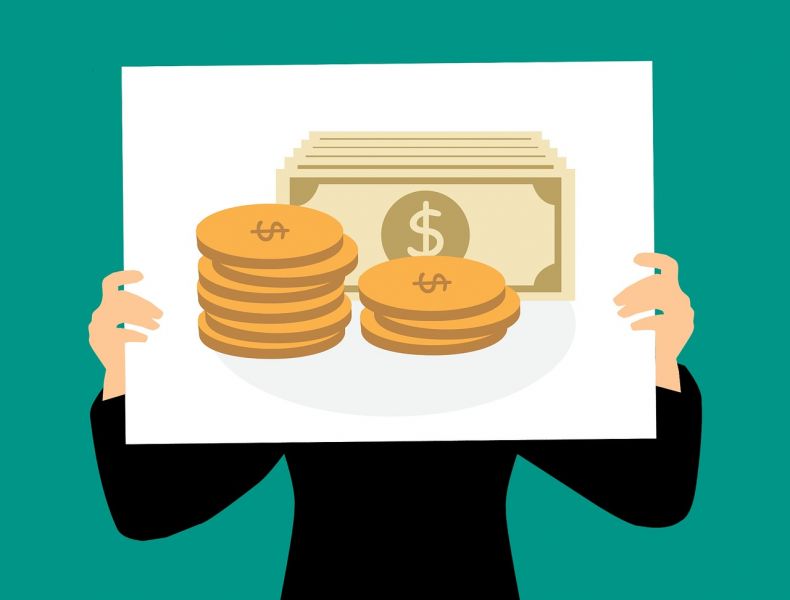 Now, if you want to know in the current landscape which pseudo-free VPN has the most advantages and the least disadvantages: there is no picture. Windscribe presents the most interesting offer. With its 10 GB monthly and its ten stable servers, it has something to please. We have here the best alternative to Cyberghost which, we remind you, no longer offers free services.
Articles on the Same Subject