Pale Moon's archive server hacked to distribute malware
Published on
Do you know Pale Moon? It is an open source browser derived from Firefox that had its little success when it did not exist in 64-bit version. Since then, Firefox has corrected the situation and Pale Moon continues its little journey by offering regular updates. Unfortunately, a history of malware could well damage the image of the browser….
Pale Moon: malware broadcaster?
It was on the navigator's official forum that the Pale Moon team announced some worrying news. Indeed, the official Pale Moon website offers users an archive area where they can find all the old versions of the browser. And this same archive has reportedly been compromised by hackers and used to distribute malware via Pale Moon's previous installers.
The message explains that Pale Moon installers up to version 27.6.2 are affected by this infection. On the other hand, the latest installer highlighted on their site is safe, as are those of the Basilisk software, developed by the same team.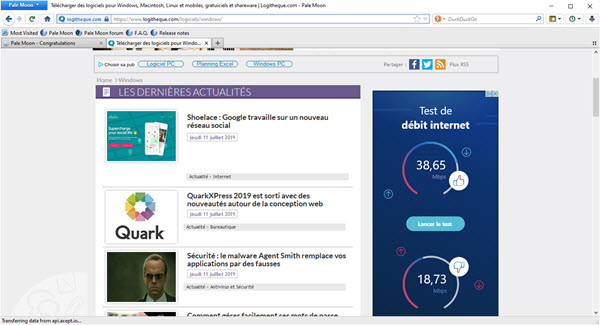 The source of the infection is difficult to locate
The developers of Pale Moon will certainly have a hard time knowing how long the infection was active. Indeed, on May 26, an incident corrupted the files in the archive, which prevents the collection of the information necessary to know the origin of the story.
The malware detected in infected versions of Pale Moon is ClipBanker. ESET specifies that it is a Trojan horse that, once installed in an operating system, takes care of corrupting it. Pale Moon teams also added in their message that malware is easily detected by antivirus software. So, if you use Pale Moon and want to be sure you are not infected, a good old-fashioned test will help you to make sure. In addition, if you have never recovered an installer from the "archives" part of the Pale Moon site, you have nothing to worry about.