Art of Illusion is a 3D modeling, animation and image synthesis rendering software. Extremely childish, the software is easy to use with its three main tools.
The first tool is the general screen where you can edit drawings; it is itself divided into 3 areas. The first on the left which proposes tools for drawing, moving, shooting and light; in the center you will find 4 independent parts which allow you to visualize under differedFinally, the third area on the right lists all the objects that make up the drawing.
The second tool is the object editor which will allow you to perform modeling, smoothing and deformation actions on the object.
As for the third, intended for the most experienced, it will allow you to associate models with blocks or procedures.
The recording of your creations can be done in JPEG, TIFF, BMP and HDR formats. You will also be able to export them in obj, pov and rml formats. It should be noted that Art of Illusion is entirely developed in Java, which is why it is strongly recommended to use J2SE.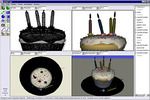 Version

3.0

Licence

Logiciel Libre

Number of
downloads

149 downloads

Language

Type

Graphics

Date Created

12/18/2013

Rate this software :