Edraw Max is certainly the easiest and fastest visualization software to create diagrams of all kinds for all users, regardless of their role. Unleash your creativity with this intelligent and easy-to-use software. Imagine with free templates. Design easily. And create surprisingly. Fully compatible with the Linux operating system. Edraw could also work on Mac and Windows. This is a great advantage for Mac and Windows users.
Edraw Max can simplify the creation of more than 200 types of diagrams, allowing users, even novices, to create quality and professional diagrams. It allows you to visualize information, improve understanding and foster communication to make better decisions.
With Edraw Max Professionel,vous can create your house plan, evacuation plan, kitchen plan, wiring plan, hall plan, bathroom plan, HVAC plan, computer graphics, Gantt chart, decision tree, chronology, PERT chart, flow chart, mental map, UML chart, ishikawa diagram, rechartbucket, electrical diagram, flowchart, data flow diagram, database, process flow diagram, piping and instrumentation diagram (p&id diagram), business card, flyer, invitation card, certificate, graph, form, invoice, purchase order and scientific diagram of laboratory equipment.With over 12,000 predefined vector symbols and rich shapes, templates, improved effects and new themes, drawing couldn't be easier! Create a wide variety of business diagrams and presentations based on free examples and templates while working in an intuitive environment and in familiar Microsoft Office style. Users work in an intuitive interface, with no previous experience required and no learning curve. Thus, Edraw Max allows you to create better diagrams in just a few minutes.
Edraw makes your diagrams more dynamic by associating shapes with data, inserting hyperlinks, adding comments and attachments, and linking your graphics to data in real time and sharing them with others via exports to graphics, Microsoft Word, Excel, PowerPoint, and Visio. Share with your team via Cloud Edraw, simplifying teamwork with simultaneous editing features.
There are dynamic user guides in the software that automatically show. With the easy-to-use interface and predefined templates, even novice users can instantly create professional diagrams. As a result, Edraw has become one of the most popular diagram solutions, winning more than 9 million downloads.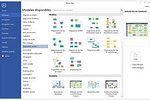 Version

8.0

Licence

Shareware

Editor

EdrawSoft
Number of
downloads

1397 downloads

Language

Type

Graphics

Date Created

08/26/2016

Rate this software :