3.2.3
Open source software
Ramme is a fabulous open source application that allows you to use your Instagram account from your Mac. Thanks to Ramme, you can post photos, comment, see the profile of your subscribers. This software is very practical and easy to use.
When launching the software, you simply need to enter your Instagram IDs for Ramme to connect to your account. From there, you can publish your photos and videos, apply filters to your photos and add comments to them. You can also search and subscribe to new accounts.
On the Mac, Ramme has many keyboard shortcuts that provide better use of the software and allow you to access the features you are interested in more quickly.
Ramme incorporates all the basic principles of the Instagram mobile application. However, some functionalities are still missing, which would not be long in coming, given that the software is open source.
Simplify your life with Ramme, which allows you to publish photos on Instagram from your computer. The software is free and in English.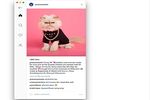 Version

3.2.3

Licence

Logiciel Libre

Editor

Terkel
Number of
downloads

21 downloads

Language

Type

Graphics

Date Created

02/16/2018

Rate this software :