You arrive alone at Hollow's steps. Armed with a simple empty suitcase and vague memories... you are determined to discover the details of the...
You had heard about Exploration, discover now the Mystery of the Haunted Valley!
With Le Mystère du Vallon Haunté, Point offers us a very complete application! To successfully download this app, you must have an Android version of 2.3.3 or later.

If it is one of the least downloaded applications, with only 5000 installations, this application could become a recognized application tomorrow.

This application is not an outdated application on Google's marketplace, Le Mystère du Vallon Haunté has not been updated for several months.

To conclude, it is true that Le Mystère du Vallon Haunté is not free to download, but for less than 1 euro it is well worth this small expense!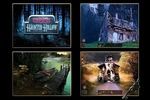 Version

1.01

Editor

Point

Number of
downloads

4 downloads

Language

Type

Games

Date Created

01/26/2015

Rate this software :