If you've always dreamed of being able to bring Marvel's heroes and villains together, this game will allow you to do just that. Marvel Tournament of Champions invites you to create a team of heroes by drawing from a large list of characters all from the Marvel universe.
Each character has its own characteristics and can complement the strengths of another. It is up to you to try to find the best possible combinations to have a balanced team.
Marvel Tournament of Champions offers a series of quests and a scenario that takes you to the most famous places in the saga: Tour des Avengers, Asgard, the S.H.I.E.E.L.D. helicopter carrier...
Available as a free download, Marvel Tournament of Champions offers integrated purchases for those who want to get bonuses faster.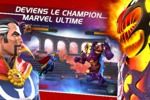 Editor

Kabam
Number of
downloads

6 downloads

Language

Type

Games

Date Created

03/08/2017

Rate this software :