Fun puzzle game with juicy fruits Fruits Match is a simple puzzle game for everyone. Your objective is to align even....
Important information, before you start installing this program, do not hesitate to read these features.
Cross Field Inc. offers us here the version 1.2.4 of its application. Installable from the "Games" part, it requires version 2.3 or later of Android to work in the best possible way.

It's easy to say to yourself that with 100 downloads this application didn't delight users, well you're not far from the truth!

Cross Field Inc. continues to regularly update Fruit Match. As proof, the last update is dated 28 April 2015. The application is therefore still up to date.

To conclude, Fruit Match only requires an older Android version, so you won't have any accounting problems with recent mobiles.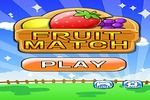 Version

1.2.4

Editor

Cross Field Inc.

Language

Type

Games

Date Created

04/28/2015

Rate this software :