Puzzle - Removing all the balls Solitaire is an apron game that, as its name suggests, is played alone. The player moves pieces....
You may not have heard of Solitaire Ball Game before today, we will show you its features.
Accessible from the "Games" category, it can be downloaded on Google Play in version 2.2. This app is classified for the general public.

With a score of 4.0 out of 5, Jeu de bille Solitaire has made its way on Google's platform. PANAGOLA did a good job of programming by offering a well-crafted application.

Very simple and without sexual content, the application Solitaire Ball Game is downloadable by everyone. This application does not require any precautions or important knowledge.

In the end, Jeu de bille Solitaire only requires an older Android version, so you won't have any accounting problems with nextgen mobiles.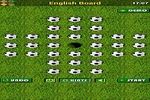 Version

2.2

Editor

PANAGOLA

Number of
downloads

6 downloads

Language

Type

Games

Date Created

09/06/2014

Rate this software :