With more downloads, Temple Run has redefined the mobile game. Now get more from the exhilarating run, jump, turn and slide...
Don't you know Temple Run 2? Let's fix this quickly! Go here to learn more about it. The installation
program of this app weighs about 45M which should not prevent installation on relatively new machines. Once the Temple Run 2 installation file has been downloaded, run it and follow the instructions! Make sure you are the right age before installing it.

If you want to make sure you download a quality application for your Android device, choose Temple Run 2, Temple Run 2 scored an average of 4.3 out of 5 by Google Play users, who are generally satisfied.

Without being an antique on Google Play, Temple Run 2 has not been updated for a few weeks.

In the end, feel free to download this application, you should not have any problems to install it.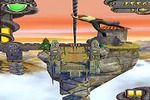 Version

1.12.2

Editor

Imangi Studios

Number of
downloads

7 downloads

Language

Type

Games

Date Created

12/30/2014

Rate this software :