Android phones are not only used to make calls, launch Instagram or Candy Crush. No, they are also used to download files, which is an activity that is reserved for the computer. Why? Why? Because of the storage, of course. But with devices that now approach 256 GB of memory, it is much easier to store large files. But Android download managers are not yet that....
Fortunately, this port of Aria2 to Android meets all these needs. Indeed, it is difficult to imagine a simpler interface for such a powerful application, which will combine speed with efficiency.
Multiple protocols are accepted, which of course improves download performance, and therefore avoids the loss of valuable data units if you are not connected in Wi-Fi.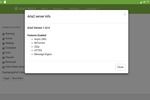 Version

1.34.0

Licence

Freeware

Number of
downloads

18 downloads

Language

Type

Internet

Date Created

11/29/2018

Rate this software :