This is the Pinkest Facebook Theme on the market! Very fast, reliable, uses less storage space and its upto date. Keeping up with friends is faster...
Important information, before downloading this program, do not hesitate to read these points:
HD Pink for Facebook is part of the "Internet" category and is programmed by Bean Storm Apps. The editor wanted to offer Android users a correct file that did not take up any space on the terminal's memory. As a result, with a weight of 5.3M, it received 115 votes, giving it an average rating of 3.5 stars. This will definitely reassure you!"

No restrictions are assigned (no violent or sexual images) to HD Pink for Facebook which is for the whole family."

We are always happy to install free software. With this application we will not be disappointed because like many applications it is totally free."

In the end," HD Pink for Facebook only requires an older android version, so you won't have any installation problems with recent smartphones."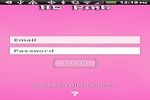 Version

1.9.5

Editor

Bean Storm Apps

Language

Type

Internet

Date Created

08/01/2013

Rate this software :