Because a blood donation lasts only one hour and saves lives, this application allows you to know where to donate blood. In addition to the geolocation of collections and opening hours, practical information and exclusive features are gathered in a single application.
♥ find the nearest blood donor clinic
♥ self-assess your ability to donate by means of a short questionnaire
♥ find out when you are eligible for a next donation

It is completely free of charge, it is an independent initiative of the EFS (Etablissement Français du Sang), which remains of high quality until the public body presents its own application on android.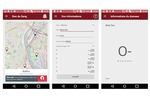 Number of
downloads

10 downloads

Language

Type

Leisure and Family

Date Created

01/13/2014

Rate this software :