Good student tips is an application available on the App Store that provides many tips for students.
If this new stage of your life seems difficult for you to grasp, this application will inform you and, above all, reassure you.
There is a lot of information about the €1 permit, tips on saving every day and tips for those who want to study abroad.
The application also provides information on student accommodation, formalities, and the various supports available.
Good Android student tips continue to be updated regularly and require at least iOS 6 to work.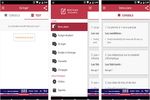 Editor

Nomad Education
Number of
downloads

25 downloads

Language

Type

Leisure and Family

Date Created

09/21/2016

Rate this software :