The application gives you access to the list of eventsnot to be missed to facilitate your integration into local university life.
You will be able to access the eventsof the different ESN sections:
Germany

Austria

Belgium

Bulgaria

Denmark

Spain

Estonia

Hungary

Finland

France

Great Britain

Greece

Italy

Luxembourg

Lithuania

Norway

The Netherlands

Poland

Portugal

Czech Republic

Romania

Slovakia Slovakia

Slovenia

Sweden

Switzerland

Turkey

Yugoslavia
The application will allow you to save the eventsin your phone's memory so you can access it even off-login.
A very useful application for students who will find various activities to do in groups (meals, theme weekends, hikes, etc.). The ideal tool for a integrationsuccessful.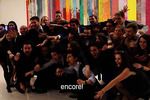 Version

1.0.4

Editor

Pierre-Antoine Sondag
Number of
downloads

35 downloads

Language

Type

Leisure and Family

Date Created

09/02/2015

Rate this software :