Application of the Brest Young Business Leaders Club (CJD): News, offs and members' trombinoscope. This application is at....
Don't forget to read this information before installing this application:
This software is an Android application the "Office Automation" part. It has not unleashed crowds and is the result of Evernet's work and has been delivered an average of 0.0 out of 5.

If it is part of the tail pack, with no more than 50 people having installed it, CJD Brest is likely to become a must-see later on.

There is no problem to share CJD Brest with your family and friends. We are more than sure that this application will delight them!

In conclusion, this application is not an antique on the google marketplace, CJD Brest is no longer updated for a few months.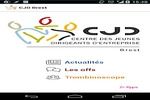 Version

1.0

Editor

Evernet

Language

Type

Office Automation

Date Created

02/14/2014

Rate this software :