Smart OCR: Text Miner allows you to convert the image to text and extract text from a PDF, edit text, action text, perform....
Are you interested in
Smart OCR:Text Miner
?
Before downloading it, learn a lot more about
Smart OCR:Text Miner
with the attributes below:
If you are looking for an "Office" type application you are in the right place because this application will meet all their expectations.
This software was updated on January 13, 2015.
Smart OCR:Text Miner created by Appstyle Pte Ltd.
Not recommended for sensitive people, this application is not to be placed in the hands of children or emotional people.
Updated often enough, the
Smart OCR:Text Miner
program will not be compatible with your smartphone or Android tablet.
In conclusion, for those who are cautious about the portfolio, this application should give them a smile because it costs nothing at all!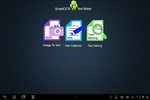 Version

1.3.7

Editor

Appstyle Pte Ltd

Language

Type

Office Automation

Date Created

01/13/2015

Rate this software :