The management of the expert battery of the display in the status bar. Fast, simple, beautiful. Battery experts display your battery's battery....
Les experts de la batterie is an application available on Google's online store, here are some details:
This application was updated on July 14, 2014, it is available in the "Utilities" section for a size of . Remember that in order to install it, you must download Android 2.2 or later.

With a score of 4.2 out of 5, Battery experts has come a long way on Google's platform. The creator of Les experts de la batterie did a good job of programming by offering a well thought-out application.

Updated quite regularly, the application Battery experts will not worry about compatibility with your mobile phone.

Finally, don't abuse your wallet. Indeed, The Battery Experts is available for free.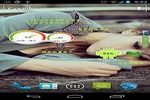 Version

2.5

Editor

MooboSoft

Language

Type

Utilities

Date Created

07/14/2014

Rate this software :