Usage Timelines is a CPU and monitor process with a graphical CPU load history in the notification bar and a list of applications...
Our site offers you the most relevant apps of "Utilities".
This "Utilities" app has been installed more than 500 times since its creation. If you have less than 2.2M of space on your smartphone, you must uninstall a certain number of apps in order to allow downloading.

If you want to download a quality application for your Android device, download Usage Timelines Free. Usage Timelines Free received a score of 4.4 from Google Play users, who were generally satisfied.

This software has not been updated much recently (last update 05 March 2015).

In conclusion, people at google have a big problem with food! Indeed, all its versions have a name of sweets, just like this application which requires the version of android 4.0.3 or later, whose short name is "ice cream sandwich".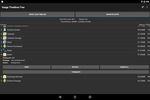 Version

1.9

Editor

Dr. Achim Leubner

Language

Type

Utilities

Date Created

03/05/2015

Rate this software :