Kiwili is an online management and accounting software with about ten functionalities related to business management: invoices, quotes, customer relations, project management, task organization, time tracking, treasury, file sharing, etc.
This ERP is online, and complete. It was created by a small company and for self-employed workers and start-ups.
Kiwili has accounting tools (and a dedicated module for accountants), a project and task manager, a CRM, but also a time management tool and a function for issuing invoices and estimates.
The discovery version of Kiwili online management and accounting software is completely free of charge. If you want more, you can try the standard, pro or company version for free.
Since 2011, Kiwili has continued to grow and has crossed the symbolic threshold of 50,000 users, including auto-entrepreneurs in France, self-employed workers in Quebec, self-employed workers in Belgium, freelancers and SMEs around the world. In addition, Kiwili regularly posts articles to help you develop your business and improve your professional life.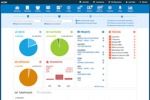 Version

2

Editor

Kiwili
Number of
downloads

150 downloads

Language

Type

Compatibility and Management

Date Created

09/04/2015

Rate this software :