Running a small business means having to do a lot of work with a minimum of time.Thanks to ClicFacture, save time in the follow-up of your invoicing to devote yourself fully to your activity.
From quotation to online invoice
Create, modify, duplicate, transform all your sales documents with ClicFacture, whether they are quotes, purchase orders, deliveries, invoices, credit notes, etc.
ClicFacture allows you to create new types of parts specific to your activity, such as equipment loans or an annual customer rate.Design your templates with your mandatory legal notices, your logo, subtotals, titles, page breaks to send your customers professional documents that reflect your company's image.
Work directly in a form that will look like your final part: ClicFacture was precisely designed and created by contractors for contractors.Send quotes and invoices directly to your customers by email, without handling files or forgetting attachments.No more mistakes!
Follow-up of regulations
Track your clients' outstanding amounts in the settlement file.The console shows you in red the invoices that are not fully paid, and in white those that are.
Make quick payment for one invoice or enter one payment plus several invoices.A partial payment? No worries: the invoice remains in the outstanding amount to continue to be dunned.
Manage multi-payments as well.Record your payments by customers or by parts.Follow up directly by email with a reminder letter that automatically includes the amounts due and the invoice numbers that will be attached to the shipment. You onkeep an eye on your cash flow as closely as possible.
Online supplier tracking
Address your purchase requests and organize your supplier orders. The tool also allows you to redit your supplier letters and find all your requests in the history stored online.
All your parts are stored in a secure area and hosted in France.You will be able to access your rooms with a simple internet connection from any device. All of themthe documents are directly in Acrobat Reader format.
Management of the activity of a very small company
Simple and pragmatic, you will find all the key indicators of your activity, including :
The evolution of comparative turnover

The portfolio of invoices, quotations, orders and deliveries

The customer ranking list, the articles

Outstanding settlements
Export the statistics of most of the key information of your activity to a spreadsheet (XLS CSV) in a few clicks, and ne no longer leave your turnover unattended.
Automatic generation of accounting entries
Optimize exchanges with your accountant by forwarding your sales and settlement entries to the right personformat.It is also possible to authorize access to your chartered accountant to help you manageyour invoicing. It will then be able to retrieve all the postings directly online, without you having toto intervene/
Writing letters online
Send mail by email directly from ClicFacture.Apply a template, duplicate it, modify it or start over from a blank document. The software allows you to send your documents byfax, email, pdf format... all options are allowed.
Keep and consult each document for each customer or supplier directly on its file.Too many letters sent with a word processor are lost due to a computer failure, a user error or simply a lack of time to file their files.In the event of a dispute or urgent request, avoid stressful situations by finding your letters quickly.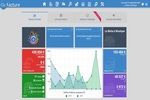 Editor

ClicFacture
Number of
downloads

261 downloads

Language

Type

Compatibility and Management

Date Created

09/21/2016

Rate this software :