With the tailor-made online application solution CEM XNet / XNet-Apps.com, our professional users, whether you are a company or company (of any size), independent, or an association, benefit from many advantages for the management of their activity with a software tool developed according to your own specific needs:
Better collaboration between the various internal and external actors thanks to databases accessible everywhere, all the time
Easy monitoring and control
Time savings with the semi-automated production of documents (quotes, invoices, contracts, attestations, attendance sheets, etc.) and synthetic data (dashboards, turnover curves, etc.)
Efficiency with business processes formalized in the application (fewer errors, no duplication...)
Security and peace of mind with backups, archiving and server redundancies
Your application is offered in SaaS mode (hosting by us, rental of access to the service, you remain the owner of all your data) Thanks to a capitalization of development efforts on dozens of very varied projects for more than ten years, we offer you a solution tailor-made for a budget equivalent, or even lower, than a generic software, with most often a formula without costs at the implementation, nor initial development cost, do not hesitate to submit your project to us. We will be happy to discuss it with you.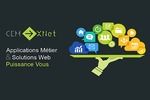 Licence

Demo

Editor

CEM XNet
Number of
downloads

45 downloads

Language

Type

Database

Date Created

05/03/2017

Rate this software :