Multi Virus Cleaner 2018: detect and remove the main viruses and malware in circulation
New version 2018 of the famous free disinfection tool Multi Virus Cleaner. Multi Virus Cleaner 2018 is the free reference tool for detecting and removing major viruses, Trojans, worms, spyware and grayware.
Multi Virus Cleaner is regularly updated and detects more than 1.55 million variants of viruses and malware, making Multi Virus Cleaner the most powerful disinfection tool. This software is based on a lightweight, very fast and easy to use antivirus scanner that neutralizes the main current virus threats. In case of contamination, it can be easily transported on a USB stick. Multi Virus Cleaner has a very fast scanning engine.
This antimalware application also detects the most common grayware (unsolicited programs) and ransomware (WanaCry, NotPetya, Locky, CryptoLocker, CryptoWall, Reveton, etc...) The new 2018 edition has been optimized and has an analysis engine 15% faster and capable of detecting the most complex malware.
Multi Virus Cleaner 2011 is a free scanner that detects and removes major viruses and Trojans. It is also able to analyze the computer's memory and detect the main spyware. Three types of scanning are available (fast, complete, thorough) as well as a last mode allowing you to choose the disks and directories to scan.
Multi Virus Cleaner
is fast and simple to use, it can help you in addition to your antivirus or in case of a problem.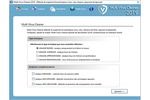 Version

18.8.0

Licence

Freeware

Editor

AxBx
Number of
downloads

55327 downloads

Language

Type

Antivirus and Security

Date Created

01/30/2006

Rate this software :