LUPC allows you to monitor and limit the time spent using the computer or online connection to the Internet or also the time spent using applications installed on the computer. You can thus limit the games: Call of duty, Counter Strike, Seafight, Merlin, etc.....
You determine the authorized weekly or daily times as well as the authorized time slots. You choose the users you want to limit, you can then grant them an additional'Bonus' connection or penalize them with a'Malus'.
The configuration can be done by network. LUPC provides a graphical report of connection times. LUPC is an easy to implement software and offers you a wide range of settings to meet your expectations. Try it and you will be convinced.
Find other parental control software in our folder.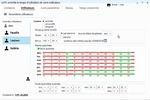 Version

5.08

Licence

Freeware

Editor

Morillon Alain
Number of
downloads

5291 downloads

Language

Type

Antivirus and Security

Date Created

12/17/2007

Rate this software :