This software is designed to replace your paper invoices while preserving the flexibility to write what you want.
Each entry line can be either a text or an element for which you specify a price. This element can be just a label with a price, or a book composed of articles taken from your own article file. The entry is presented as in Excel with an entry field above the grid. The calculation is automatic as soon as you move in the input grid either with the mouse, or with the arrow keys or the'Enter' key. The total excluding VAT, VAT and total including VAT is displayed at the bottom of the screen.
You have the possibility to put bold, italic and/or underlined lines, change the color.
The layout is automatic, you can add your own header from a jpg file. You can insert a start text and an end text, placed outside the frame with the prices.
This version is free of charge! With the paid version, it becomes possible to make discounts, manage deposits, have a preview before printing, send orders, invoices, but also to make the accounting bridge, the follow-up of payments.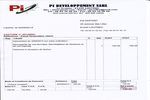 Version

7.1dp

Licence

Freeware

Editor

PI DEVELOPPEMENT
Number of
downloads

1687 downloads

Language

Type

Compatibility and Management

Date Created

09/09/2014

Rate this software :