Land prospecting software
Software package for real estate developers.
PROMOTERRR allows you to enter the land
Each site has a complete identification form to fill in the following information:
Location and status of the land, Overall surface area, Floor area, Max building surface, nature of the land, road accessibility, submissions, contact details of third parties, estimated and actual dates of the interventions, etc....
..., their owner(s)
The user can geolocate the land and use Google tools (Google Street)
Possibility to edit letters, mails, e-mailings
Follow-up of the intervention via the agenda and the reminder calendar.
Svuivi of the provisional dates of expired missions
Monitoring of intervention costs incurred
The notion of operation allows the user to link one or more properties to his future operation, then the possibility to print the complete file of the operation (with its different properties and the related costs).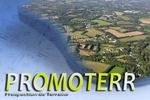 Version

V1.06

Licence

Demo

Editor

LAE INGENIERIE
Number of
downloads

331 downloads

Language

Type

Compatibility and Management

Date Created

12/07/2016

Rate this software :