The main features of the CampinGest software:
Multi-company, Booking
planning management in drag and drop mode, Interactive
graphic plan, Booking
planning and automated invoicing, Booking pricing updated
automatically with each modification, Retrieval of cash register tickets (Restaurant, Bar,
grocery store) éthe TPVRestauration® or TPVCommerce® software, with definition of a maximum amount outstanding per camper, Management of reservation
confirmations, Management of down payment requests for
reservations, Management of task
planning and human or material resources, Management of ancillary services planning (
tennis, sports hall, equestrian centre, etc.)...),
Communication by email to customers integrated into the software (sending booking confirmations, down payment requests, quotes, etc....) in 1 click),
SMS module for simple communication with campers (batch or unit),
Access rights management (groupware),
Customer management,
Product management,
Seasonal tariff management, Seasonal tax management
update,
Management of the characteristics of the locations and services offered, Creation of
quotations, invoices, credit notes, Parameter setting of the display
currency (all currencies), Fully configured
reportsTrables for each type of commercial document (Invoices, Quotations, credit notes), Conversion
of commercial documents into PDF in 1 click, Management of customer
payments and reminders, Module creation
and modification of reports and requestsThis allows you to carry out your own analyses according to your needs and to modify 100% of all impressions to adapt them, Pre-programmed analyses for an efficient follow-up of your activity (INSEE, occupancy rate, etc.)...) Sales
journal,
etc..., etc...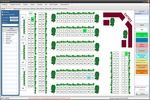 Version

4.10 Ab

Licence

Demo

Editor

O.2.C. MARKETING
Number of
downloads

1153 downloads

Language

Type

Compatibility and Management

Date Created

02/03/2014

Rate this software :