iKaizen allows the definition and organization of personnel, and the entry of suggestions for improvement.
The suggestions must then be analysed by the system managers who decide how to proceed with them.
A suggestion can be sold without creating a project (it keeps its 2 points), or realized without a Kaizen project (it then increases to 10 points).
It can also lead to an improvement project (the suggestion is worth 5 points). When the project is implemented and completed, the original suggestion will be worth 10 points
The program makes it possible to monitor the implementation of projects. The status of a project will evolve as it progresses, according to the PDCA method, from "Plan" (planned), to "DO" (in progress), then to "Check" (under audit) and finally to "Act" (in place and adjusted).
Several attributes are used to qualify and analyze projects: The type (example : Quick, Standard, Major, Advanced, Advanced, PPA); The initiator; The initiator service; The management pillar; The source; The sector; The substation/machine; The loss under attack; The source; The sector.evolution of the project (according to the PDCA cycle); The pilot; 1 or more tools; 1 or more project team leaders; The cost; The benefit; etc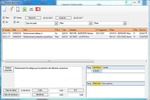 Version

1

Licence

Demo

Editor

Avetech
Number of
downloads

69 downloads

Language

Type

Compatibility and Management

Date Created

05/15/2017

Rate this software :