Free personnel management software
Personnel file with contact details and contract type and days of rest
Name, address, city, date of birth, social security number, RIB, children, date of entry, date of exit, service, point of sale, type of contract, rights from 1 June to 31 May
Entry of photocopies of employee's documents, identity card, residence card, diplomas, certificates
Recording of absences for paid leave, illness, recovery, RTT, winter bonus, parental leave, work accident, etc.
Calculation of the remaining leave balance taking into account the entitlements of the 1er June to May 31 (2.5 days per month)
Graphical absence planning
Printing of documents such as account balances, employment contracts, redundancy letters, etc. to be modified and adapted to your company yourself by Word.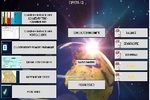 Version

2.0

Licence

Freeware

Editor

DSINFORMATIQUE
Number of
downloads

2264 downloads

Language

Type

Compatibility and Management

Date Created

11/10/2018

Rate this software :