Office Supplies is an inventory management software for office supplies for your company. But that's not all.
After entering the catalogue of your different suppliers (the same item can be found at different suppliers, with different prices and VAT rates), you can prepare your orders by taking into account the stock and the configurable alert stok for each item.
Once your orders have been sent, you can then manage the delivery(s) and track your stock by recording outputs for employees and/or departments. Each output can be validated by an output voucher.
In order to manage your stocks and, possibly, waste as much as possible, the program will then allow you to display statistics, by articles, services or personnel.
At the end of the year, the software will allow you to remove the current stock in order to optimize the annual inventories.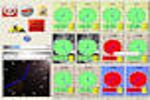 Version

2

Licence

Shareware

Editor

GaillardT
Number of
downloads

313 downloads

Language

Type

Compatibility and Management

Date Created

01/25/2016

Rate this software :